sunday: october 7th
on saturday, rachel and sterling drove up from seattle so we (rachel, sterling, dad, mom, tom, dave and i – jeff had to work) could all go to a local farm (pumpkin patch) as a family activity for rachel's birthday (which is not until the 11th). it was davey's first trip to a pumpkin patch. it was my first trip, too! the weather was kinda crummy, but we had a fun time anyway.
we rode in a wagon and sat on hay bales to get to the pumpkin field and to the apple trees.
[SIDE NOTE: notice that dave is sporting his "bob ross 'fro" - you remember the bob ross painting show on the public tv station in the 70s? he had a big afro and always talked about painting "happy trees." dave is afraid to cut his hair now b/c davey will smile (sometimes laugh) pretty much every time dave spends any length of time with him. it's so cute to see davey and davey interact like that. but i also think it's cute that dave thinks davey might not recognize him if he cuts his hair!]
we ate apples right from the tree (well, davey didn't) – TOTAL YUM! tom ate the biggest apple he could find: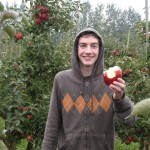 [ANOTHER SIDE NOTE: i have a hard time eating apples b/c of my braces, but i braved it anyway. dave was kinda grossed out when i finally asked him to take bites of the apple and then take them out of his mouth so i could eat them. hey. with my braces i'm actually not supposed to bite into apples b/c it could break off the brackets! but these apples were SO CRISP and SWEET!]
rachel was convinced that all the best apples were up high so she rode on sterling's shoulders to pick apples.
we picked gourds (i pointed with my shoe and dave pulled them from their vines) for a table centerpiece. and we took davey's photo with a scarecrow and some pumpkins.
check out how davey's little legs hanging out of the baby bjorn – sooo cute!! and did you notice his little jean jacket in the above photos? little kid clothes are just TOO FUN!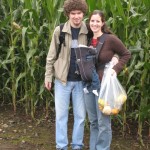 on the hay bale wagon ride back to the other part of the farm, we talked about how much fun it'll be to return to the pumpkin patch next year with davey who will likely be walking and talking and running… i can hear his little giggles now!
just a few final photos i love:
and now i think i've finally loaded all the photos for this post. hope you enjoyed them. i'm planning to make a mini book about davey's first trip to a farm. i LOVE the colors of fall, so these will be fun photos to play with!