tuesday: october 30th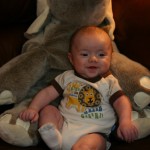 so here's my cute baby boy… it's his 3 month photo, though it was taken closer to 3 and a half months of age. he looks SO BIG here… all chubby and roly-poly. he's just my little darling!
we did not end up doing our family photo shoot (and davey's 3 month photos) on friday night b/c dave got home too late (and davey was sleeping). we did take the above photo over the weekend, though. i'm hoping we can do photos of davey ASAP, but with our schedule, we might have to skip 3-mo pictures and do 4-mo pictures instead!
the weekend was tiring. i helped out at a church event (the ladies' tea – i was in the kitchen) all day saturday and when i got home, i fell asleep on the couch for a 90-minute nap. yep. that means i was exhausted. we even missed an awesome party (sorry kim!) – dave was gonna dress up as bob ross (the painter from the 70s)… would've been fun. sunday was kinda long, too, with church, family lunch and then a special planning meeting at church on sunday night. davey was pretty fussy ALL DAY on sunday – i thought it was from me being gone so much on saturday. nope.
when he woke up at 6 yesterday he had all these dried crusties under his nose. poor little guy either never got over that first cold OR got a new one. this one hit pretty hard. last night we put the humidifier in his room and he slept really well AND he could actually breathe through his nose when he woke up.
i'm pretty much working around the house this week trying to clean up various messes. i cleaned up my craft area on sunday. yesterday i made a big dent in our home office. i'd like to work on the bonus room some more and maybe even on the garage… but i have to figure out where to STORE everything first…. do i save stuff for a garage sale or do i call ARC. i just can't decide. tomorrow, however, we are going into bellingham to run a few errands and maybe to take davey trick or treating to some of the downtown stores (it would be carrilee, henry, davey and i).
OH YEAH…. THANKS FOR THE NURSERY WALL PHRASE IDEAS…. KEEP 'EM COMING. YOU CAN OFFER MORE THAN ONE SUGGESTION (NO LIMITS, ACTUALLY), SO KEEP SENDING ME YOUR IDEAS!