Friday: October 26th
Davey's been sleeping well this week… I'm so proud of my baby boy, even though he's growing up much too quickly! Dave and I are hoping to do a photo shoot (at home) tonight (of Davey and of all three of us)… for Davey's (belated) 3 month photos. We'll see how the evening goes.
We ran some errands today, including a trip to the store (www.treasuryofmemories.com) where I dropped off my store projects and then purchased a FEW scrappin' goodies AND some fun, new home decor stuffs. I bought three cool alterable frames to play with for Davey's room. And I bought some of our new vinyl products (www.decorate-your-life.com) for the front of our house and for Davey's room (can you tell I'm trying to FINALLY finish his room?)!
Wanna see what I got?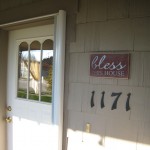 So I bought that wood strip and I bought a "bless this house with love and laughter" vinyl phrase. I cut off the end of the phrases (now I have to find a good place to use it!) and adhered the first part to my wooden board. I added a picture hangar on the back and hung it outside by my front door. If the window in my front door was all one instead of in three segments, i would have put a phrase right on the glass (it looks SO COOL when you do that)!
And here's what i bought for Davey's room: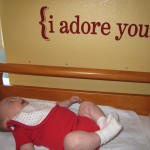 yep. that red phrase "i adore you" is vinyl. (the "precious" is a wooden world i found at a craft store YEARS ago.) as you can tell, i think davey likes the special message above his changing table.
here's the same phrase (including davey in the photos) in two other photos, as well:
(some day I'll eventually hang the valance for his window)!
So what help (the title of my post) do I need from you? I need you to help Dave and I come up with something cool to "say" in vinyl above Davey's crib. Here's our plan: three photos of baby animals from our African safari adventure will be printed onto canvas (probably 11×14 in size). I want a vinyl phrase for above (and/or below) the canvases. I want more of a piece of advice to Davey rather than a quote (though I'll gladly take a quote if it fits the need) and I want it to be NOT cheesy (which is why I need your help b/c I'm out of ideas – all of mine are "cheesy"). Something along the lines of "life is an adventure so live it to the fullest" or "take time to explore" or SOMETHING. I want it to relate to the photos at least a little bit. You can respond in the COMMENTS section here or you can e-mail me (tlpeace@mac.com) your suggestions.
Whoever provides what we end up using in Davey's room will win a SUPER COOL PRIZE (that is currently in the "to be determined" stage, though it may have to involve winning your very own item with vinyl, eh?!). Entries and suggestions will be taken from now through November 9th (two weeks from today).