wednesday: october 31st
happy halloween, everyone!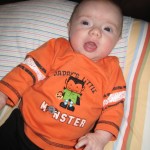 today davey will wear this little outfit (with an added jack-o-lantern hat) to go around downtown bellingham. he's still spitting up quite a bit and i know he won't make it the whole day in one outfit, so we'll start with this one and move to the cute ghost onesie and ghost hat for the evening.
here are two darling photos from lunch with grandpa & grandma on sunday:
in the second photo, davey was talking up a storm with grandpa. he is DEFINITELY a chatterbox. and believe it or not, that means he takes after his daddy. dave was a talker when he was younger. he must've used up all his words, though, because he's not much of a talker anymore. i, on the other hand, was too SHY to talk when i was little and now i'll talk anyone's ear off. go figure.
and here are some fun photos from play group on monday: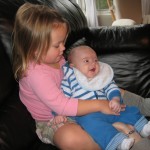 that's ellie jo holding davey. ellie has ALWAYS LOVED babies. she's too cute! we were the first to arrive to play group on monday and we were over 20 minutes late. stacy accidentally made a comment "maybe no one's coming" and i guess ellie just broke into tears. poor thing. and just minutes later, davey and i pulled into the driveway and other people arrived shortly thereafter, so ellie had lots of friends to join her in playing and crafting!
and i LOVE LOVE LOVE these photos from playgroup. stacy has two little girls – ellie (age 3) and lily (age 1). so they have lots of pink and purple toys, dolls and jewelry and other fun GIRLIE things. so here are my two FAVORITE photos of HENRY that day. i took these photos so i could try to blackmail henry's dad (tim) just because i think it's funny!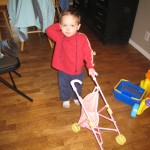 henry with a purple necklace around his neck and pushing a pink stroller. note: HE put the necklace on. no one encouraged him or suggested it. it was actually one of the toys that i think ALL of the kids played with that day!
and this photo: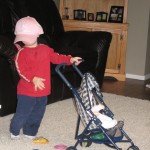 henry wearing a pink hat and pushing a stroller. again, no one suggested he wear the hat. no one put it on his head – it was his own choice. and seconds before this photo was taken, he was actually wearing the hat correctly – but it's pink!! :)
and here's davey LOOKING like he's enjoying tummy time (from Tuesday), though he really wasn't: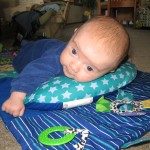 dave got him to spend a little more time on his tummy on tuesday evening and he never got mad but he did get tired. we're really trying to have davey practice tummy time a little bit each day so he can work on holding himself up on his elbows and then work on rolling over. his neck is really strong and he can hold his head up pretty well (though he's still a bobble head when he's tired) and his legs are really strong (have been since he was born) so there's still some thought that he might skip crawling and move straight to walking. if that's the case, Lord give me energy!! :)
and finally, last night i walked into the living room after being out of the room for about 10 minutes and this is what greeted me: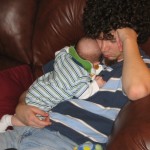 once again, my heart melted. i think my heart melts about 100 times a day these days. i love seeing my boys together. i love seeing dave hold davey. i was talking with someone recently about the "weirdness" of love. it's weird b/c you can never run out of it. when i married dave, my heart was full. i never thought i could love someone so much. and then we had davey. and i still love dave just as much (if not MORE) than i did before, but now my heart is filled with MORE love…. love for davey, too. when we had davey, my love for my husband didn't decrease so i would have some love to give to my child. instead, my love grew. that's kind of a weird concept to think you're full to overflowing with something and before you know it, there's MORE added to your bucket… and there was room for it.
okay. enough rambling. tomorrow we'll try to post photos from our halloween adventures. stay safe today, everyone, and don't get sick eating too much candy!