tuesday: october 16th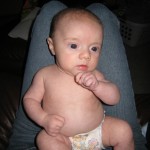 Yesterday I forgot to mention that mr. chubby chunk is also exploring the world with his hands and his mouth these days. often times, the hands will wind up in/around his mouth, which makes for hands covered in slobber, but it's so darn cute! He also rubs his eyes before and after naptime (or at night and in the morning), he LOVES to stretch when waking up from a nap. He knows faces and voices and he still smiles at his daddy's hair (gotta LOVE that afro!). He's even more alert than he used to be (I wasn't sure that was possible) and he can follow (with his eyes) a toy that is held in front of him… he seems to have great eye sight. His weight (on a home scale) is 11.4 pounds and he's about 23 or 24 inches long… he's really growing up before my very eyes!
last night he fell asleep in his car seat after pulling his binky out of his mouth…. if you look closely, you can see the binky in his hands!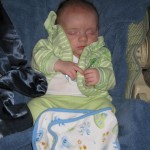 this morning he was really fussy when i was trying to get ready. i was convinced he needed to fall asleep, but he kept fighting it. i finally put him in his boppy on the bathroom counter (i was right there the ENTIRE time) so he could look at the bathroom vanity lights. within 2 minutes, this is what he looked like: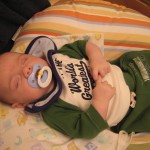 when a mama has a lot of things to carry downstairs in the morning, including a sleeping baby, what's the best way to do it all at once? in a laundry basket, of course! and davey loved the ride!