Tuesday: October 2, 2007: HAPPY OCTOBER!
and HAPPY BIRTHDAY to JENN (Kovalik) LeBLANC! It's been years since I've called you or sent you a card to wish you a happy birthday… but that doesn't mean I haven't thought of you all these years! I'm wishing you a wonderful birthday and year! (sorry, but i don't have any photos in my digital library to post… one day i'll have to scan in some oldies (but goodies) of jenn and i!! :)
On to another topic….
Check out Davey in this photo: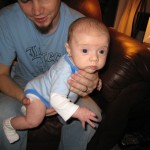 He's SO STRONG already… look at him holding up his head here! He can hold up his head (if/when he wants to) for minutes at a time. He's got a STRONG neck. (And in other photos from this day, which I don't have ready to upload here yet, you can see his onesie which reads "I pulled an all-nighter")! He is growing so fast and furious. I had to put away his newborn clothing last week (made me sad b/c he had some cute outfits), though he is still wearing his newborn pants (the 0-3s are just SOOOOO LOOOONG)! and, of course, I bought him some new clothing last week and yesterday (the neighbor's garage sale and then macy's, kohl's and baby gap)… i have to say that i LOVE long-sleeve onesies! they are the cutest things!
At play date/group yesterday, for the first time, we were able to get Shelly & Lizzie, Brandi & Jaden and myself & Davey together for a photo! Here's a picture of (in order from left to right): Brandi, Shelly and I in June (at Rachel's bachelorette party) when we were all preggers: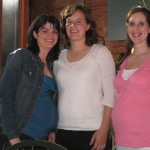 Yeah. you can tell Shelly was NOT happy about having her photo taken… though she barely even looks pregnant (her due date was about 9 or 10 days before Brandi's).
And here's a photo of us now with our babies (we're at Shelly's house):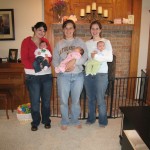 We have these darling children who will grow up together. And the weird thing (for me, since I'm not from Lynden), is their parents grew up together. How cool would it be, 25 years from now, to see a photo of THESE children all holding their OWN children?! In Lynden, those kinds of photos are possible. That blows my mind. And I LOVE it!