tuesday: october 23rd
today i head to the scrapbook store to teach tuesday card class. i'm looking forward to the break – davey was a little fussy yesterday (even at night with daddy) so while i love him dearly and will miss him, i'm grateful for the opportunity to have a day without him interrupting me every 30 minutes! i did (eventually) get my three progress reports (for my "regular job") written, but it took pretty much the WHOLE day to accomplish 3 hours worth of work. davey wasn't much for naptime yesterday. hopefully we can continue to work on that. i think my day-to-day will get much easier once he's sleeping well at night (which he's been doing great!) and is taking at least one decent nap a day. i really am trying to be patient. in the moment it's pretty hard, but when i look back to where we were just 3 months ago, i can see how far we've already come.
on friday, we received TWO packages in the mail. thanks for the cute outfit, aunt lo – it should fit davey any day now! the other package was from a dear friend of mine from israel (she lives in indiana). ellen is actually the WONDERFUL person who taught me how to tell a story so people would WANT to hear it. love ya, ellen! but back to the package – ellen was introduced to a series of books when she had her second daughter (i think)… it's the "David" series. she sent us three books and i LOVE LOVE LOVE them. i'm hoping that grandpa & grandma or nana will finish the collection for davey for christmas! here's a photo of the three books ellen gifted to davey: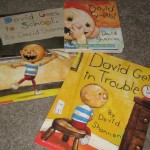 i like the illustrations in these books. they're pretty funny. AND they have a good message, teaching children manners, what NOT to do in school, etc. in the "david smells!" book (teaching about the 5 senses), the last page even reads "peekaboo davey!" – i LOVE that! i think davey will really enjoy these books when he gets a little older, though i sure love them now!
before davey got TOO fussy for daddy last night, here are some photos of him sitting on daddy's chest while daddy tried to watch TV:
(sorry 'bout the red eye – too lazy to spend the time fixing that)! i LOVE that second photo… davey LOVES to smile and he's talking up a storm these days. i can't WAIT to hear the sound of his giggle… i wonder how much longer until we hear that?
shortly after these photos were taken, davey got really fussy and wouldn't chill out, so we got a bottle ready and dave fed him. true to form, davey spit up quite a bit all over daddy. it just wouldn't be a "feeding by daddy" if davey DIDN'T spit up on him. sigh. i thought we were doing better in this area, but the last few days we've moved BACK into the "lots of spit up daily" category. oh well. i'm still hoping he'll grow out of this mess. there's hope, right?!