monday: october 22
today is my first day "back to work" at my "regular" job. today is all about getting report due dates written into my day timer and "announcing" my return to the company. i'm curious how this will work out, but i'm so thankful that i can work as few (or as many) hours as i want AND that i can work from home.
love these photos: binky in…. binky out!
on friday we had our friends, the olsons, over for dinner. oliver will be two in january (he was born in indonesia) and baby #2 is due in early november (so pretty soon)! oliver LOVED little davey and wanted to hold him UNTIL i pulled out the camera. then, as with most little kids, it was all about taking pictures and then LOOKING at the pictures on the camera. children today will never know the frustration of getting a roll of film back from the developer only to find the one photo you really wanted didn't turn out!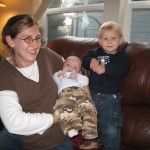 and on sunday night, after the olsons gave their presentation at our church, oliver wanted to help dave carry davey out to the car: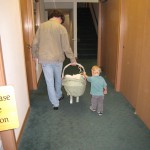 other weekend events included lunch with the family yesterday: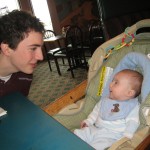 davey really loves his uncle tom. last week, tom spent about 10 minutes sitting on the floor with davey and the two of them just talked and talked and talked (davey really likes to "talk" these days). and while i didn't get a photo last week, i did get this one yesterday at the mexican restaurant, when, once again, uncle tom and davey were speaking the same language!
i got some "me" time on saturday afternoon. i went out to lunch ("tea") with christy and melissa as a belated birthday celebration for christy. we had a great time and i still can't contain my excitement that they're BOTH pregnant!! i LOVE these girls! (melissa was my first real friend in lynden and christy was my roommate before we each got married)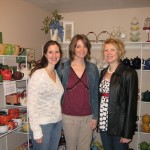 it was a pretty low-key weekend, which was nice. next saturday will be crazy for me and the weekend after is a big 27-hour crop (scrapbooking event) that i'll be attending (without the munchkin). i'll be teaching two classes at the event and then i'll actually get to scrapbook the rest of the time (well, i'll sleep, too)!
as for sleep, davey is doing pretty well. he has a few nights here and there where he just has to wake me up at 2 a.m. or 3 a.m. but for the most part, he's really hitting a stride from around 10 p.m. to 4 or 5 a.m. i think that's pretty darn good for a 3-month old. so now we're working on making naps a bit more consistent!
and here's what my little man is wearing today (and yes, he also wore it on friday night, but it has been washed since then):