sunday: september 23rd…
wow. been a crazy weekend. nana came into town on thursday night. we spent friday around the house (went through all of davey's clothes to see what "gaps" needed to be filled) and i had to leave at 3 for a wedding.
the beautiful and talented miss carly from the scrapbook store got married to the love of her life – shaun: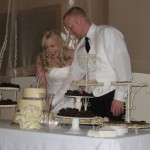 it was, by far, the shortest wedding i've ever attended, but also one of the most beautiful. the reception was a blast… those TOM girls sure know how to have a good time! and once i had a few drinks, i loosened up and woke up! tee hee!
and look who flew ALL THE WAY from new york for the wedding AND to meet konnor (kim's baby) and davey: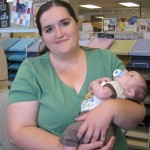 sorry we didn't have more time with you steph! and i'm sorry dave got fussy and i didn't notice! (steph had to say "okay. i don't want him anymore." before i realized davey was getting fussy. i swear, i'm losing my grip on reality most days – i just DON'T pay attention anymore)!
saturday was another wedding – danny (one of dave's former roommates) and april: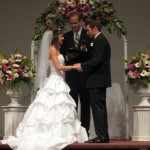 the flowers were gorgeous and the back of april's dress reminded me of a wedding cake – not sure why… maybe the layers looked like frosting?
both couples looked beautiful and appeared to have a wonderful time. and they're both honeymooning in hawaii, though on different islands.
today was a big family meal after church… and from there, the day just disappeared. i have a feeling tomorrow will be more of the same ("a disappearing day") and then nana leaves early, early, early on tuesday morning and we'll try to settle back into a routine of some sort in this household.
thanks for understanding my delay of blogging for the past few days. i'll try to be better this week!