tuesday: september 18th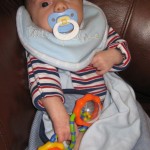 this photo is "older" (from the 5th) but i love seeing davey holding onto his rattle. it was the second time i could get him to hold it. we'll keep working on it!
so today we had davey's two month check-up. mama was well rested because daddy got up with davey last night so mama could rest up and get some strength back. YEA for daddy!
davey currently weighs….. 9.1 POUNDS!
and is 21.5 inches long
i can't believe he's growing so quickly! i knew he was at least 8 pounds, but 9 pounds? no wonder he's outgrowing his newborn clothing! too bad because some of it is SOOOOOO CUTE!!!
he also had some shots and an oral immunization today. poor baby. he did well with the shots, though. yes, he screamed during them, but he chilled out almost immediately afterwards and he's currently sound asleep in his carrier. and i'm gonna leave him there until he starts to fuss.
another cool thing: with this weight gain, dr. dickson said davey could potentially start sleeping through the night. so the next few nights in this household will be rough. yep. pretty rough as we try to let him cry himself through a late-night feeding. hopefully it won't take more than a few days for him to learn this. and hopefully daddy and mama can be strong through the process. (but i am aware that it might take more than a few days. and i am aware that it might still be a little soon. but i'm willing to try. a full night's sleep on a regular basis sounds AWESOME)!!
with that, have a wonderful tuesday! (and i am currently eating toast with strawberry preserves. my first solid food in over 36 hours – hopefully my body can handle it)!