THE BEST TEACHER EVER!
Karen Russell is hands-down, my FAVORITE scrapbook teacher EVER. She's funny, energetic and LOVES to laugh (at herself and with others)! Her class on Friday night at Treasury of Memories was WONDERFUL. I LOVE the project (I'm still finishing it up – it's 99% full of photos of my Davey-baby!) and I LOVE her product (she does designs for several companies). AND I did (once again) dance on a table at the store so I could win a prize (I'm shameless about getting free stuff, ya know?)! Unfortunately for all of you, I don't have any photos of me dancing on the table (Karen took one, though). I do, however, have a photo of me with Karen: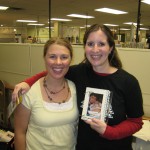 After the photo was taken and I took a peek at it, I commented to Karen that we're the cutest things EVER! And we are darling, aren't we? Check out those smiles…. big, bright and genuine! How in the world does this wonderful woman connect with so many people so easily? She's REAL. As many of you know, I LOVE people who are "REAL." People who are honest. Open. And don't pretend that everything is perfect. Admit they are human. And Karen does that. Especially on her blog (www.karenrussell.typepad.com/), which is one of my favorite things to read daily (or sometimes several times a day). Her stories are real life. Heartfelt. Honest. Genuine. And she shares the good, the bad and the ugly (sometimes all at once). She does the same thing in her scrapbook pages and projects. She's a very gifted story-teller and I wish that one day we could go to lunch (or dinner) and trade stories for hours. She's one of those people where something wild ALWAYS has to happen (like losing two debit cards in 2 months – including losing one somewhere between home and the scrapbook store; or having a daughter who likes to wear mama's underwear around her neck around the house; yeah…. i could go on with stories that i've read on her blog)
So to Karen I say a great big THANK YOU for making the LONG DRIVE from Oregon to Bellingham for our class on Friday night. THANK YOU for being a real person. THANK YOU for connecting with me. THANK YOU for keeping scrapbooking as your PLAN "A." And THANK YOU for reminding me not only to scrap the "non-perfect" photos, but to ENLARGE them when I scrap them. You are an inspiration!
And just for fun (please pardon the photos…. i'm too lazy to scan the layouts):
here's the layout i made after the june 2006 class i took with karen (advanced transparencies):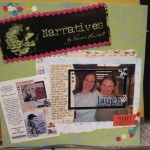 and here are the two projects from that class:
john & babi in block island: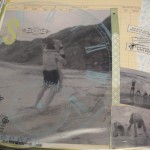 and this layout (celebrating dave and i and our first date – a sonics game) which i framed and have hanging in our upstairs hallway: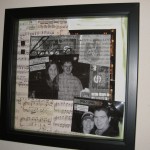 and totally unrelated…. my neighbor across the alley had a garage sale today and i got a huge pile of clothing for davey for only $12!! and it's already washed and ready to put away in his room!