Friday: September 7th, 2007
yesterday dave, davey and i met the newest member of the bailey family – jaden lane (or maybe it's laine with an "i" – i'm sure i'll get corrected by someone who knows!)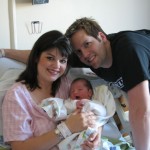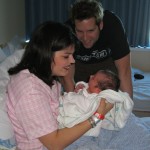 Justin, Brandi and Jaden Bailey (only Emma is missing in the photos, but at 22 months, she couldn't spend the whole DAY in the hospital)!
jaden has the most hair i've ever seen on a newborn! it's thick and jet black – just like his mama's! congratulations to you both, justin and brandi! we are SO THANKFUL to have you in our lives and we welcome the newest addition to your family – our family! (for those of you who don't know, justin's dad and dave's dad were college roommates. and dave and justin are EXACTLY one month apart in age. and then when dave's family moved to lynden when he was in high school, he and justin became good friends – and have remained good friends through high school, college and "career & family" times. and davey and jaden are about 7 weeks apart in age. and now, these precious little boys are going to grow up together to carry on the dunkin-bailey family traditions! brandi and i are already planning some photo shoots of the boys with their dads and their grandpas!
according to dave, jaden will make an awesome hitchhiker. i know, i know…. i was confused too. but when i first met jaden, he had his thumb in his mouth. when dave first met jaden (mere moments later), he could see that jaden has large hands. so with his large thumb, he should be able to hitch a ride without any problems!
Justin hung out with Davey in the hallway for a few minutes so Dave and I could see Jaden at the same time…. here's us with our newest little buddy: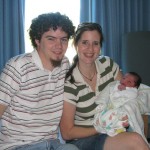 And here's Davey… stuck in the hallway to the Baileys' room… waiting so desperately to meet his best friend. (There's a pretty strict rule at the hospital about no children under the age of 12 in the hospital rooms with newborns UNLESS it's a sibling. So Justin, Dave and I took turns in the hallway hanging out with Davey. Poor little guy – he just wanted to meet his friend!)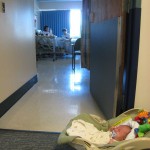 tomorrow is Dave's 10-year high school reunion. we paid the big bucks to go to the fancy dinner. grandma will be babysitting. guess i'd better find all the paperwork so we can remember where this dinner is being held – and at what time!

i just hope some of his friends that i already KNOW are planning to attend this dinner event – surprisingly enough to many people, i'm actually an introvert, especially at a party where i don't know anyone!
and for those of you who want to know, i did not get to "play" on wednesday, though i did get a NUMBER of thank-you cards written – i have to make about 25 more cards to finish up the thank-yous for the gifts received so far. i did get to play a little on tuesday, though – i made a layout which i already delivered to the store and i started and later completed a mini album. one more layout to make – all for store samples. and then it's on to davey's announcements (which are SO CUTE)! i did make up one of his announcements and i hand delivered it to my OB's office on tuesday and they all RAVED about it (esp. my OB)!