wednesday: september 5th
so davey is currently napping in his crib (a first – yay!) and i am bound and determined to get this post completed and maybe even play a bit today!

first, davey has been sleeping "okay" these days. we've been getting several 3.5 to 4 hours stretches from him each night (and during the day)… i still miss those 5 hours stretches at night. and i'm eagerly awaiting a full night's sleep (for me) but that will all (hopefully) come in time!
for the last few days, davey has only eaten 6 or 7 times a day (huge improvement over 10 times a day!) and most of that is still from a bottle, so i know that he's eating AT LEAST 24 ounces a day (which is what a 9-pound baby should be getting daily).
davey has OUTGROWN his preemie clothing. or almost, at least! dave had a hard time getting this "just born" (5-8 pounds) onesie on davey on sunday morning: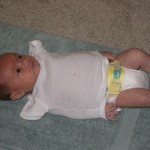 of course, i'm a sucker for cute stuff and since i don't think he got enough wear out of his preemie clothing, i still put it on him – poor kid! he's filling out his newborn clothing quite nicely these days and I've even been able to put a few 0-3 month items on him, though he still swims in those!
yesterday i went to the doctor (the usual baby follow-up appointment – all is well) and i had them weigh me and then weigh me holding davey (since i'm too cheap to run to his doctor's office to get charged a few dollars just for him to be weighed)! so i've lost all but 10 pounds of my baby weight (not bad, from what i hear – and i had gained about 34 or 35 pounds). and the weight difference of just me and me holding davey was EIGHT POUNDS! now granted, he had on his diaper (which was probably wet) and his clothing but still, how is it possible that my child… my little preemie baby is already eight pounds?! his head is bigger. his legs are MUCH chunkier. his face is fuller. and he's still so darn cute!
on monday we had play group again, but since it was labor day, it was an all-family picnic on the lake (Lake Whatcom). so here are some photos from another fun day with friends: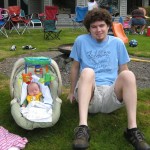 davey & daddy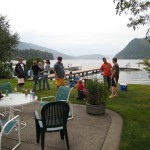 the location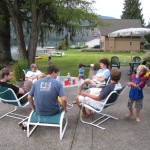 (some of) the dads
This is my friend Shelly holding her new baby girl (born on Thursday, 8/30), Elizabeth Lynn (aka: Lizzie Lynn):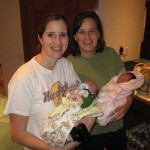 Oh yeah – on Saturday night we had a "just us" date night (it was a last minute thing, so the moments of getting ready for this date and getting davey packed up were so hectic i almost wouldn't go!). grandpa & grandma watched davey and we went out for dinner (On Rice – Thai food) and to a movie (SuperBad – which has SUPER BAD language)! It was good to get out, especially because Davey hasn't been the easiest baby lately.
Sunday we had lunch at dave's parents house and i really wanted to go shopping… but one of those shopping trips where you hit a bunch of stores really quickly (esp. some discount stores), so it would have been much more difficult and time-consuming to take davey. dave had his gottahink project to work on and therefore couldn't really watch him, so his mom offered to watch davey. in 3 hours (maybe 4) i hit the following stores: Big Lots, JoAnns, K-Mart, Dollar Tree, Target (just for returns) and WalMart. I found a play yard (complete with bassinet, carrying case, mobile and 10 songs) for $50 (at Big Lots) and I found tons of awesome scrappin' goodies (older stuff) at Big Lots and Dollar Tree. And I finally bought a bathtub for Davey (at WalMart)… the little grey bucket they gave us at the hospital is a bit small for my chunky boy now!
here's a photo of THREE GENERATIONS of the David C. Dunkin line (only one missing is grandpa from Ohio):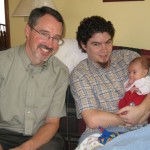 and finally, just a cute one of my boys!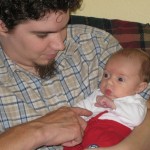 and there you have it…. our busy lives! dave thinks his part of the gottathink project is pretty much taken care of. he'll still have to provide input and work on it, but not to the extent that he has been the past few weeks. good thing, too, because i think it's time for me to have a play date in my studio while daddy watches davey!