we were up and ready to go pretty early yesterday (10 a.m. is pretty early for a mom of a new baby, right?) so we headed into bellingham to buy diapers. we had a good time at walmart, treasury (the scrapbook store), eating lunch with daddy (olive garden – yummmmm!) and at costco. and we were heading home by 2!!
we stopped at starbucks (drive through) for a treat for us AND for brandi and then we delivered some diapers for jaden and the carmel frappacino to brandi. so here's a fun photo of jaden (sleeping) and davey (wiggling):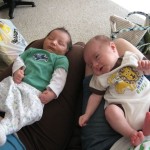 it's obvious who's older at this point, and davey's head is bigger, but check out jaden's hands! and ultimately, while davey is "fuller" looking, their weight isn't far apart!
here's a cute one i snapped of my little guy – i'm just sad my finger is in the photo, but i love his happy eyes and his almost smiling mouth!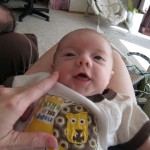 and last night we walked over to great-grandma's to make sure we could say goodbye to aunt mary before she left for california (going home) this morning. she just LOVES little davey!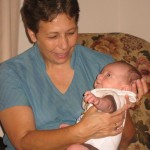 all-in-all, yesterday was a successful day because i also did a full load of laundry (start to finish, INCLUDING putting AWAY the folded clothing), emptied the dishwasher and cleaned up the kitchen, rag cleaned the kitchen floor (aka: a wet rag and my foot pushing it around the floor), washed a few more of davey's baby toys (so he can play with them), NURSED (successfully) twice… yeah. i felt like i accomplished a lot at a relaxed pace.
and today – we have limited plans. we already went for a walk with jessica, ellie and addisen (it's only 11:45 a.m.). we're going to make a cake for tomorrow's play group, which means we have to go to the store and get the goodies – 'cuz mama wants to decorate it, too. and we have a few quick errands to run in lynden (the bank and the drug store). so today is a slower-paced, chill out at home kind of day. yippee!
oh yeah – at costco yesterday, i splurged and bought TWO more pairs of jeans (i bought one pair about two weeks ago). they have LUCKY brand jeans for ONLY $40 a pair (so i now own two pairs) and levi's for $18 (so i own one pair). i now have THREE pairs of jeans that FIT (and are a little snug so they should still fit well when i lose my last 10 pounds). i honestly do not REMEMBER the last time i had three pairs of jeans at one time that actually fit…. we're talking YEARS, here…. probably about 10 years or more. crazy, i know! now i just need to get some shirts that fit and don't show my post-baby muffin top!

oh yeah – the sleep thing:
i have no "expectations" for my child and his sleep habits/patterns. i'm taking it all one night at a time (sometimes justs 3 hours at a time) right now. but last night he ate at 10:15 (was asleep by 11) and didn't wake up until 3:15 for his next feeding. so another 5-hour stretch… i'm so proud of my baby boy!