thursday: september 20th
this photo is a few years old now, but today i would like to wish a happy 32nd ANNIVERSARY to dave's parents, dave & linda: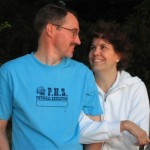 and the photo of the day is this one of my darling boy: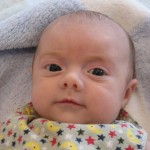 he's been a bit fussy this week (thanks to the shots on tuesday, no doubt), but he's still smiling a lot for us and he's a joy to have around (95% of the time)! i tried all morning to get a photo of him smiling, but he's not yet willing to smile for the weird silver rectangular object that mama likes to hold in her hand!
i think i am 100% recovered from my bout of food poisoning. no more red robin for me for awhile. yuck! now, however, i am dealing with a sore mouth. i had yet ANOTHER visit to the orthodontist yesterday (weren't these things supposed to be off in july?). my teeth ARE still moving as necessary, but not as quickly as we had hoped, apparently. but after talking with dr. cummins and reminding him that he told me two years, not two and a half years (he checked my chart to make sure – and i was right!), he added a few new pieces of metal and elastic to my mouth yesterday and hopefully at next month's visit we'll be able to talk about REMOVAL. what that means is it's POSSIBLE i might have my braces off for thanksgiving… but almost DEFINITELY by christmas! FINALLY! it would be a WONDERFUL thanksgiving OR christmas present to me!
nana comes in tonight for a long weekend with her grandson. tomorrow i'm off to a wedding (the beautiful miss carly from the store) and then on saturday dave and i have another wedding to attend here in lynden. nana picked the right weekend to come to town!
last night, jeff (dave's brother) and taryn (his girlfriend) came over to hang out for a few hours. i love watching jeff with davey. he LOVES being an uncle and he's really eager to play with our little boy! soon, jeffy, very soon! the funniest part of the evening was when davey put davey up on his shoulders: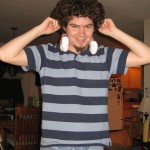 yeah. exactly. where IS he?! you can see davey's feet next to dave's chin, but that's about it. he's got BIG HAIR now! the most relaxing part of the evening was sitting in the hot tub. davey got bundled up and was put into his car seat on the deck by the hot tub. he loved staring at the lights we have hanging above the hot tub. he also loves to be outside and he loves white noise (like the hot tub's jets), so he was pretty much in heaven out there and he was awake for a LONG LONG time just staring and sucking on his binky.
so there's your update for the last few days. here's one more photo of my darling boy that i couldn't resist sharing: