tuesday: september 4th….
a short post today, mainly just to let you know we're alive and doing well. i'll update you soon, but for now, here's davey getting a bath from daddy on sunday morning: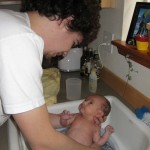 some days davey likes getting a bath. other days (like today) he's not at all a fan and screams through the whole thing. i'm still trying to "read" my baby!