monday: september 10, 2007
so we had play group again this morning. it's so much work to get out of the house for a 9 a.m. play group on mondays, but it is SO WORTH IT…. and i NEED it to get me motivated to get going early. today we were at stacy's home which is beautiful with LOTS of outside area for the kiddos. so much fun. i really am excited for this time next year when davey will be running around with all of the kids!
shelly made it out today with andrew (19 months) and lizzie (not even 2 weeks old yet!) AND AND AND… she WALKED to stacy's house. andrew was pushed in the stroller and lizzie was carried in the baby bjorn. and that clenched it for me… miss anna loaned us her baby bjorn but i'd been waiting for davey to "get bigger" before i tried him in it. i'm no longer waiting. he's actually in it right now. and he's doing great. i may have to invest in one of these things!
we had a busy weekend. on saturday we had dave's 10-year high school reunion. at first he was glad we were going. then he got worried that there wouldn't be anyone he wanted to see. then we were there and he was frustrated that we went. then he mingled a bit and talked to some more people and was glad we went. but no photos. not even one of us together – it wasn't an event worth photographing, apparently!
yesterday was church (and we made it back to sunday school again!) and then lunch at el ranchito (a yummy mexican restaurant in town). while we were eating with dave's parents, jeff called and wanted us to visit him at starbucks (across the street) after lunch, so we made our way over to jeffy's store (he works for starbucks) and enjoyed a beverage and uncle jeffy actually got to see davey with his eyes OPEN!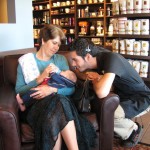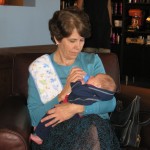 next was on to tim & carrilee's house for a short gottahink meeting. henry was sleeping so carrilee and i got to talk with davey was held, loved and then played on the floor. and when henry woke up from his nap, he was super-cute with bed head and sleepy eyes …. and he was ALL SMILES!

oh! i forgot to tell you that last week, davey totally FOCUSED on the musical giraffe that auntie megan bought for him. it's tied to the back of his changing table, right where we place his head each time he gets his diaper changed (which is pretty often). last wee he was staring at it and he really looked like he was trying to see what it was. so i pulled the cord so it would play twinkle twinkle and he was mesmerized. following that entertaining moment, i assembled the mobile for his crib and attached it. here are some cute photos from that: