Friday: september 28th.
so it's almost the weekend… yippee! we like the weekend. we like when daddy is home to help with davey (more) and to play with davey and to give mama a break and for mama and daddy to get to spend some time together… all those good things.
this little guy: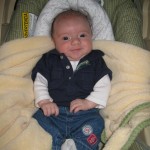 is still sleeping pretty well. he has this internal alarm clock that tells him when it's 4 a.m. (turns out his buddy jaden does, too…. wonder if it's because that's so close to the time when they were born?). but with 10 minutes of crying and then the addition of the binky to his mouth, he's doing well at going BACK to sleep. in fact, last night (this morning?) when he woke up at 4 a.m. he didn't cry for a full 10 minutes, so we didn't get up. it was 5:45 a.m. when he finally cried and i had to go and give him his binky. he had a rough time from then until 7 when we put him in bed with us…. and he finally got to eat at 7:30 a.m. So he's doing well, but he doesn't quite have the hang of sleeping "through the night" yet. we'll get there. i have faith that it will all CLICK for him shortly.
Another update about the wee one is he's into his 0-3 month clothing now. i just put away 99% of his newborn clothing (the onesies are all too short). i left out his pants and a shirt. his 0-3 month pants are a tad long, though he can wear some of them. He is wearing lots of his outfits from nana and we're gonna have a tough time on sunday deciding what to wear to church… too many cute things! i did realize that i do need to buy this kid some more long-sleeve onesies, especially all white ones. hopefully i'll find some (on sale) today when i run to macy's and kohl's before my class tonight….
yes. i said class. i'm taking a class at the store tonight…. a "famous" scrapbooker is coming up from oregon to teach a class. i LOVE karen russell… she's fun, funny and a GREAT teacher and an awesome scrapper. i took a class with her over a year ago and LOVED it, so i'm super excited for tonight's class. i have my box of supplies packed up and ready to go. my photos are all ready, though i have two wallets to pick up at costco on the way to class.
time to go feed davey (again!)… we're down to 6 feedings a day (yippee… i NEVER thought we'd get to this point) and hopefully in a month or less we'll be down to just 5 feedings a day. i don't think he's eating as much as he was a week or two ago…. maybe he was having a weird growth spurt (not at 3 weeks and not at 3 months). i love that he's growing, but my back hurts a lot these days, so i need him to SLOW DOWN a bit so i can get used to his GRADUAL weight gain!!

happy friday!