Thursday: August 30th.
I just got home from a visit with a good friend who moved away over a year ago (for ministry – hey… when God calls, you go!). It was great to sit down with Taya and talk about being a mom, to watch her with Isaiah, to watch her holding my precious baby boy, to connect and share and laugh… Taya, I just want you to know that you are loved and missed and I am so thankful that you arranged for our visit today! I look forward to being part of the bigger play date on the 13th!
Here's Taya with her precious boy, Isaiah, who turned 2 in April.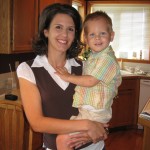 And here's Isaiah playing "this little piggy" with Davey's fingers!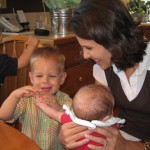 (And that's Henry in the background – Carrilee and Henry were part of today's visit also – love you guys, too!).