man. yesterday my mom and i ran errands in bellingham (5 hours) and we got quite a bit done… and i nursed davey in the pathfinder in the mall parking lot (our first "public" nursing excursion) so i didn't have to try to pump a bottle or feed him formula. it went alright.
but this is some of the pile of stuff from our shopping adventure: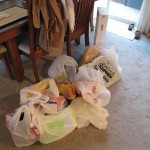 the "fun" stuff (gymboree, kohl's, macy's and some target goodies) are baby clothing and bibs bought by nana for little davey. guess he doesn't have enough already! tee hee! actually, we did need some more bibs… i finally learned that the bibs will catch the spit up and are easier to change than the onesies!

but before our adventure at the mall and target, we stopped at a bunch of places, including a *discount* store that i want to make part of my regular "errands in bellingham" routine…. Deals Only (on James Street). and while i didn't find anything for Davey this week, I did find a really nice jacket that i fell in LOVE with. it was an AWESOME PRICE, but i wouldn't let myself buy it…. so nana bought it for me… "for having a baby," she said. i LOVE IT! (might i also add that the jeans i'm wearing in this photo are maternity jeans purchased for $1 at the same place – Deals Only. that's not a typo, folks. 100 pennies purchased those jeans (plus tax, of course). the jacket is two layers (the inside fleece can zip out) with lots of pockets and even a hood!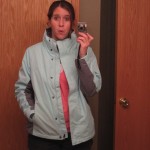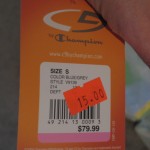 this was dave last night… each night, he comes home from work, does something around the house (he had to install a new shower head earlier this week after i broke ours… WHILE i was showering!), then sits down (usually AFTER eating dinner) and has his daddy and davey bonding time. i LOVE these moments… to see my Daves together… it makes me feel warm and fuzzy (i'm totally cheezy, i know!).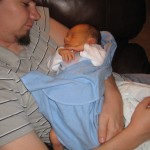 And today is Davey's last day with nana. so he's getting in lots of cuddling time with her while I prepare my "goods" for the Treasury of Memories garage sale this weekend (can't wait to get rid of this stuff and get store credit for new stuff – like davey's announcements)! so while nana is out having lunch with great-granma Lou and i'm typing this post, here's what my baby is doing: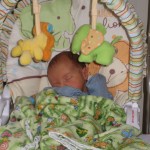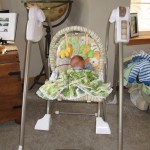 yep, that's my boy, loving his new swing. last week thursday i called carrilee to ask if we could borrow henry's swing (friday was circumcision day and i was trying to "prepare" ahead for having a fussy baby – but davey wasn't too bad – slept most of the day!) and she obliged. only, instead of showing up at my door with henry's swing, she had this (in it's box and all wrapped up)… the swing from our registry! i spent a good hour putting it together (let's not relive those moments!) and though davey hasn't used it a lot in the past 5 days (so many hands available to hold him!), he does like it. he's content and comfy and cozy in there. and OH SO CUTE! so thank you, tim, carrilee and henry, for your GENEROUS gift (which, apparently, i was GOING to receive at the church shower in two weeks but we got it a little early due to our borrowing request). i LOVE this swing and so does Davey. thanks, dear friends!
and with that, it's back to organizing, sorting and pricing my stuff for the garage sale. anyone want to venture a guess of how much i'll make?