Happy August (a day late)! Today is Thursday and last night Davey took his first trip to The Spit at Semiahmoo. We had a great time and the participants included the Baileys, Dycks, Barons, Partlows and us. There were 4 kids (Davey, Joshua Baron, Henry Dyck and Emma Bailey) plus Brandi is expecting Baby Boy Bailey in about 6 weeks.
It was awesome to get out and hang out with friends like we did last summer…. only now we have all these children! It was the HOTTEST at the Spit that any of us have ever experienced before. There was NO BREEZE and the sun was pretty scorching (and we didn't get there until 7 or 7:30 in the evening)!
Here are some photos from the evening:
our gang…. just hanging out, talking, eating (roasted hot dogs) and relaxing in the sunshine!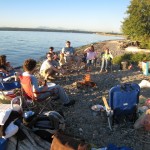 the dunkins. i know it's a dark photo…. sorry about that!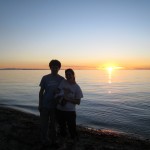 joshua baron (and trisha). hard to believe that this little guy was born in february and was just over 6 pounds at birth! in five months my davey could be a little chunk like this!!!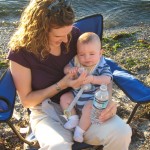 henry and emma playing by the water. this time next year, davey could be this active!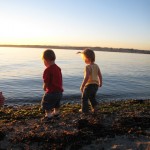 and last but not least, my sleeping angel: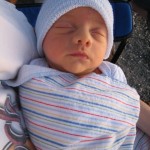 And yes, Nana did arrive late on Monday. I was not allowed to photograph her yesterday b/c her hair looked horrible (so she said) so hopefully we'll have some photos of Davey with his Nana soon!