saturday: june 25, 2007
here's what davey looked like yesterday when i ran into town to make the "final approval" of the design of his birth announcement. and he slept long enough that i was even able to die cut letters of the alphabet to spell out the months in his baby book. yea for sleeping baby davey! i must admit that i LOVE the little hoodie he's wearing, so i went out and bought a few more this week in various colors and sizes (thanks to Mary Jo's gift card!)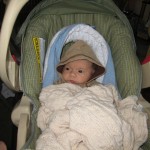 then we went to a surprise party last night. i don't really have any good photos of that, but here's davey and joshua. joshua was 6 pounds 2 ounces when he was born (about davey's size in this photo) and now, just 6 months later, check him out…. so in 6 months, my own little davey could be a chunk! so hard to imagine!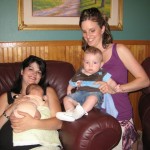 that's auntie brandi holding baby davey. she fed him his bottle last night at 8:45 p.m. (at the party) and he slept until 1:45 a.m. today. yes siree. he slept for 5 hours! then, i fed him around 2 a.m. and he slept until 5 a.m. THANK YOU, BRANDI, for teaching me to burp him even MORE OFTEN than every ounce. i'm hoping this 5-hours in a row of sleeping will last for more than just last night!
and here are my boys in bed this morning around 9 a.m.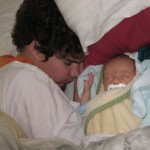 after his 5 a.m. feeding, davey ate AGAIN at 6:40 a.m. and then was fussy around 8. so at 8 he came to bed with us and was pretty good (slept most of the time) until eating again at 10. yep. we're working on this food thing.
and before i forget, here are the final shower photos of all the clothing davey received (mostly in smaller sizes):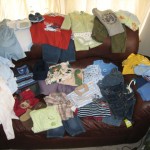 check out the little jean jacket (lower right corner) – it's got a little bit of that "sherpa fur" lining at the collar and cuffs. it's pretty chilly here today (lower 60s) so he might wear it to auntie rachel's post-wedding reception! and i love the little plaid shirt with jeans (lower middle-left area) – he might get to wear that to church tomorrow (or to the reception today?)! i do love ALL the clothing, but those two stand out right now b/c he might get to wear them today (they're in the dryer right now).
and the books he has received (thus far):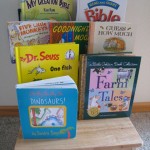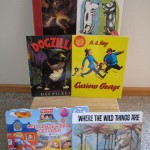 there are some good ones in there, eh?
and finally, a few shots of people from my shower (thanks to brandi for taking these photos with my camera since i was busy opening presents):
the larger 1/2 circle of the attendees: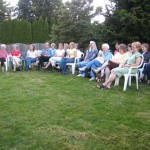 sandi (hostess) holding davey while kay reads a blessing: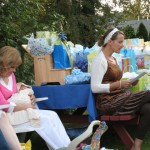 (check out all those presents in the background)!
my mother-in-law, Linda Dunkin: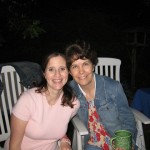 my former roommate and maid of honor: Christy (Yost) Fankhauser: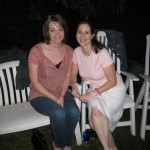 my good friend Brandi (due any day now):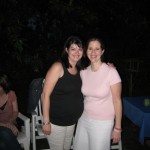 my dear friend carrilee (who was in charge of the shower game):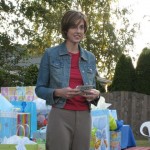 and last, but certainly not least, the coolest diaper bag EVER (thanks to Linda for making this JUST FOR ME!):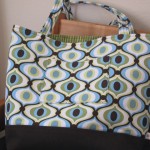 (but be aware, she does make and sell these – diaper bags, bibs, burp cloths – through her company called Bella Baby…. if you're interested, let me know and I'll get her e-mail address and/or phone number to you – she does not yet have a website).
and with that, I'm gonna go take care of my baby while Dave makes us some breakfast burritos (yummy)!