thursday: august 9th
yesterday afternoon i gave davey a much needed bath after he was *finished* with his time in the swing. i remembered to put baby lotion on his skin (which was drying out in some places) and accidentally got some in his hair, so i tried spiking his thin little locks on top of his head. in the process, he was also kinda sleepy and i caught him mid-yawn. i sent this photo to dave at work yesterday – just a little way to remind daddy that we love him while he's at work making money to provide a good home for us!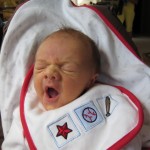 dave and i have really enjoyed watching davey grow and change over the past 3 weeks. we've noticed this week, especially, that he seems to be more alert (when he's awake, though he's always been pretty alert) and he is much more aware of his surroundings, noises, people's voices, etc. it's so cute to watch him as he watches the world around him.
sniff ** my little boy is growing up before my very eyes!!