saturday: august 11
today is the TOM garage sale…. i'll be gone most of the day (the sale is from 9-1) but hopefully i'll make a few hundred dollars (and hopefully i won't buy too much "junk" from other people)! daddy will be watching davey. he's AWESOME with his son. in fact, this will be (at least) his 4th babysitting stint… his first was one week after we came home from the hospital.
here are a few more photos from this past week that i love:
davey with nana on her last day here. he slept on her lap like this for OVER two hours. he slept soundly. totally relaxed. out like a light. and nana loved every minute of it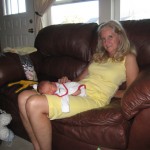 in case you weren't aware, nana, baby davey does miss you!
and on friday i went for a walk after the day FINALLY turned nice (my walk started around 5). i wandered over to justin, brandi & emma's house and emma (age 21 months) wanted to hold the baby: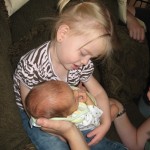 she did awesome! she's gonna be an EXCELLENT big sister. her mama is due in 5 weeks (though i'm not-so-secretly hoping she has the baby in 5 more days – so baby boy bailey and baby davey will be exactly one month apart in age… just like their daddies)! it was so cute to watch emma with davey, though. brandi kept asking if it was her turn to hold the baby and emma would whisper "no" and then she would hug davey with both arms, as if to say, "back off, mommy, this baby is mine right now!" and when brandi asked emma "do you want mommy to have a baby for emma to hold and love," emma whispered "yeah." it was darling and i can't wait to scrap these photos and tell this story so it's forever noted in my scrapbook(s)!
and just a funny photo of davey and emma with their binkies: