Friday: August 17th
and yet again he melts my heart…..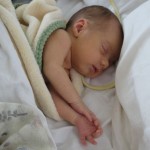 thank you, everyone, for your encouraging words regarding yesterday's post. we all have those moments, especially as a new mom. i'm grateful to know i'm not the only one. yesterday was a difficult day. i know that i'll have more days like that in the future. but for now, i am thankful that today is not like yesterday! i am also thankful for my mother-in-law who came over to hold davey so i could take a shower. and then again last night when she watched davey while i went to see the new Jason Bourne movie with dave, dad, jeff and tom. i needed the break, even though i was exhausted.
we saw the doctor this morning and got a prescription for the thrush (though it has SIGNIFICANTLY lessened already). and here's some exciting news: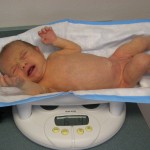 if you can't see the details in the photo, davey's weight is up to 6 lbs. 4.5 oz.! that means in 2 weeks he gained 12.5 ounces! and he's now 20.25 inches long (he was 18.5 at birth). so he's growing. and despite all his spitting up, he is gaining weight!
here's miss anna (also one of the nurse's at our doctor's office) FINALLY getting her chance to hold davey! i just LOVE the expression on davey's face… he's got SO MANY expressions – he's a riot to watch!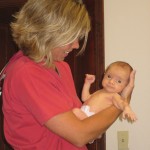 and i learned of my garage sale tally – $218.65!! woo hoo! that should keep me in goodies for a little while (or at least pay for davey's birth announcements that we're going to work on today with miss elke)!
here are some photos from yesterday – i actually caught a smile on camera. not the greatest photo, but it's him smiling!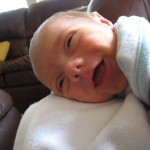 and then mama got silly and put davey's pants on his HEAD!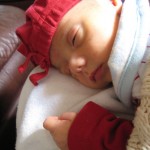 and with that, it's time to head to bellingham. i hope to mail out birth announcements by the end of the month… along with all of our thank you cards (which we HAVE been working on). our church shower is this coming tuesday night (the 21st) so we'll have lots and lots of cards to mail in the coming weeks!
happy friday to everyone. and thanks again for your thoughts, prayers and kind, encouraging words. as MANY of you have indicated "this too shall pass." i love you all!