tues: 8.21.07
tonight is my church shower and i am so excited about it even though some very dear friends are unable to attend.
sorry for the lack of photos with the last few posts… my computer is significantly slower now that dave is using it (rather than his laptop) for gottathink projects. he's also using the computer in the evenings, which is when i tend to find the time (and a more content baby) to dump, edit and upload my photos (that's also when i get the majority of my housework finished – again, the content baby thing… or at least there is someone else to hold him – i have got to go get a sling asap!).
the feeding situation is all over the map right now. i'm still pumping and bottle feeding, but today i'm also trying some traditional nursing… i'm just not convinced i can pump enough for him. and though i have a crazy load of formula now (thanks for all your free-bees, carrilee), to use to supplement his feedings, it's kinda stinky (literally)… so i'm still trying to decide what is the best fit for us. i know i need to choose something and be consistent with it, but for now, i'm still all over the map. hopefully we'll get this all "figured out" soon.
before i forget, here's davey's ONE MONTH photo, taken in his crib last wednesday (the 15th). he is now sleeping in his crib (thanks for the loan of the bassinet, brandi & trisha!) and every month we'll take a photo of him in his crib with this elephant (which was one of dave's christmas presents to me several years ago) to show his growth!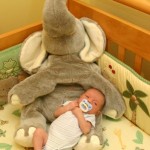 and since you can never see too many cute photos of my little boy, here are some recent favorites: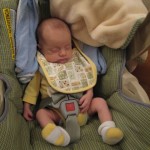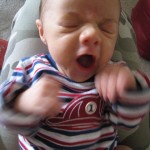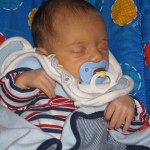 i must admit, i love him in the darker colors (like navy and red) – it just fits well with his complexion and hair color). so thanks to nana for these outfits… he's slowly filling out his preemie items and is at least able to wear some of the carter's newborn clothing!
and here are some cute photos from play group yesterday. the first photo is shelly (who is about ready to have her 2nd baby) and her son andrew, who is giving baby davey a kiss. the second photo is anna with her children, case and madeline. anna is one of the nurses at davey's doctor's office and she really comes across as "super mom." i can learn a LOT from her AND she wants to come and hold davey anytime!!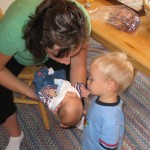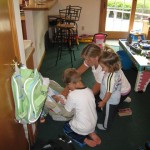 oh yeah – did i mention that i blew off housework yesterday and actually did some scrapbooking? yep! i started davey's "visitors" album and made a TON of progress in only 35 minutes. i also added some wallet size photos to a little mini album that i made several months ago.
and now i'll see if i can get back into davey's baby scrapbook that i started before he was born (he's napping right now)!