monday: august 6th
what an exciting post title, i know. i'm running out of "day to day" ideas, here, though. we didn't do much of anything this weekend… one of these days i'll actually start to get out of the house regularly. dave wasn't feeling well this weekend (a summer cold) and his parents picked it up earlier in the week, so davey didn't get to see grandpa or grandma last week…. hopefully they can make that up this week! nana is still here and helps around the house and holds davey as much as mama will let her. AWESOME people are STILL offering to bring meals…. we plan to take you ALL up on those offers, by the way… just give me some time to get my brain functioning! on saturday night, i was INSPIRED by my friend Elizabeth (www.myinnermartha.blogspot.com) and i cleaned off the table in my craft room. yep. so now i can actually work on projects up there while davey is sleeping (the table was covered with all the stuff i was using to make his pre-made baby album). i finished my "LOVE" mini album kit for the store and that should be available for sale soon… of course, i forgot to take photos of it, so when it's on the TOM blog or in the TOM on-line store, i'll link it here. and i'm getting ideas for davey's birth announcements…. ideally, i would like to mail those by the end of august (at the latest).
Davey had a rough Saturday night (dave actually slept on the floor of the nursery for a few hours b/c davey would get fussy every 10 minutes or so and wake himself up). thankfully, dave and mama BOTH got a nap yesterday afternoon (thanks to nana). oh yeah – and after church, we (Dave, Davey, Nana, Grandpa, Grandma, Uncle Jeff, Uncle Tom and I) went out to mexican for lunch…. and i forgot my camera even though it was davey's first trip to a restaurant! bad mama!
not much else to report other than a few more cute photos for you (and of course, davey is sleeping in most of them)!
after church with the rose that Grace gives to parents/babies on their first week in church (though davey's first week was actually last week, they didn't have a rose ready for him… oops)!

nana's got the magic touch to put this kid to sleep (sometimes):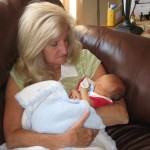 "so precious" (dave, this title is for you!)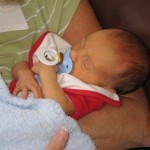 davey's tiny fingers wrapped around nana's thumb: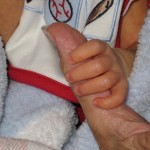 candie holding my fussy baby davey at our TOM girls staff meeting last night…. i seriously want her to come to my home and teach me how to care for my child…. she's REALLY got the magic touch! (and candie, i'm sorry it's not such a good photo of you… but look how darling davey is just lounging in your arms)!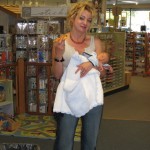 and i'm pleased to report that Davey slept WELL last night. yep. good boy. I think all together, I got about 6 hours of sleep (through 3 stages of sleeping), which is pretty good (from 11:30 p.m. to 8:00 a.m.)
so happy monday to everyone! today's goals:
*get davey's blood drawn
*start pricing my TOM garage sale items
*try to finalize birth announcement design
*go for a walk
oh yeah… and to all of you who left me ENCOURAGING comments and advice and suggestions on my last "i've gotta learn" post, THANK YOU! sarah – i'm at 3 weeks… so 3 more to go until i feel that "click" you're talking about. elizabeth – I will be checking out that meal/menu planning site shortly. And thanks to ALL OF YOUR for your prayers – i covet them.
okay… one more "p.s." i have a VERY LONG version of my "birth story" typed out…. but it's too long for me to put on my blog (i think, anyway), so if you're interested in reading it, drop me an e-mail and i'll copy/paste it to you. some of you have already heard it in person (it's way better to hear it "in person" with my dramatic and theatrical expressions, i think) but you can still read it if you want to. my e-mail address is TLPeace@mac.com