some more photos…
kissing mama: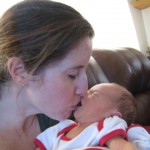 falling asleep while listening to aunt rachel sing (via kelsey's blog):


(to hear rachel & mark singing at a wedding, go here:
m-k-m.blogspot.com/2007/08/he-will-probably-be-embarrassed.html
getting ready to see the doctor. the yellow giraffe was a gift from auntie megan and it plays "twinkle twinkle little star" – davey grabbed it by the neck (in the crook of his elbow) earlier this morning):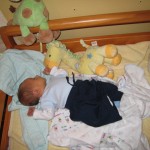 and here's my 5 pound, 8 ounce bby boy after his circumcision. bless his heart!