friday: august 31st
it was finally in stock at my local target: the orange striped boppy i wanted. so i picked it up, came home and used it right away.
and here's my sweetheart with our new boppy: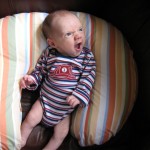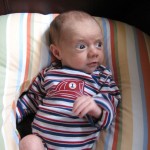 he's just darling, ain't he? and i LOVE that little fireman's onesie he's wearing (thanks, nana)! he has jeans to match, but he always kicks them off unless he's strapped into his car seat or swing!