Tuesday August 14th:
Wow, i guess a few busy days in a row really does make it tough for a baby to adjust. Davey has had a difficult morning (it's 11 a.m. and I'm just getting ready to take a shower – after finishing with this post). Hopefully a few days at home/around the house will help him mellow out again, though I must say he was very good through all the activities. We're having a few struggles with the Baby Wise method, but we are persevering. Sunday night/Monday morning was difficult. last night/this morning were also, but not quite as much. Hopefully each day will be a little less challenging and Davey will settle into the routine (sleep then eat/diaper change then awake time then sleep again) pretty easily.
First of all, the scrapbooking garage sale on Saturday went pretty well. I don't know my final tally yet (hopefully by the end of the week?) but I think I did pretty well. I sold quite a bit of stuff, but I'm not sure if it was a couple hundred dollars worth of goodies or just about a hundred… only time and the final tally will tell. I did, of course, shop the "junk" that other people were selling. I spent about $20 for the day and came home with these goodies: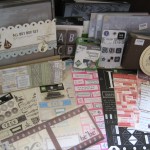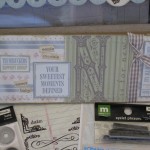 That little album (2nd photo) was a STEAL at only $1 and it turns out it was made by Elizabeth… the OWNER of Treasury (aka: my boss)! I'm excited to put some little wallet photos of Davey in there… it's a ready made album just for us!
Here's a funny story about me at the garage sale. I had to pump while I was there, since it was a 6-hour event (including the sale, set-up and getting there and back home). THANKFULLY i had remembered to grab an extension cord. the sale was at a local church (one of those giant "shopping mall" seeker churches), so I went into the bathroom with my bag and cord and pump and ran the extension cord across the bathroom floor, and into a stall. Once there, I realized there are no lids to the toilets and i didn't want to stand for 10 minutes… yeah… just picture it. walking into a bathroom to see an extension cord running across the floor and to hear this mini motor running. ahhh, the joys of motherhood!
While I was at the garage sale, Davey stayed home with Daddy. I think they had a pretty good day. Dave is AWESOME with his son. I love to see them together. And when I can't get Davey to "chill," Davey sure can!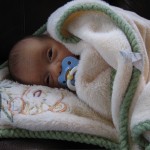 Then on Sunday, we rushed out of church and I headed to a bridal shower for the beautiful and talented Miss Carly (asst. mgr at Treasury). It was pink and princessy and all things girly. Unfortunately, in the ONE photo I took of Carly, her eyes are closed. Oh well. Love you, lady! The shower was a blast and Davey and I finally got to meet Konnor (Kim & Will's baby who arrived 6 weeks early and is only 6 days younger than Davey). Konnor is doing awesome (and his mama looks great, too – no photos of her here, sorry). Miss Carly did take a photo of Kim & Konnor with me & Davey, so hopefully I'll be able to share that with you soon!
But in the meantime, here are two CUTE LITTLE BOYS that EVERYONE LOVES… and both boys are TINY with lots of DARK hair!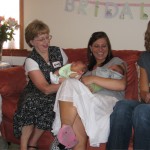 At the shower, Konnor was wearing the CUTEST little front-zip hoodie in sweatshirt grey… and it was PREEMIE sized?! I LOVED it… found out where it was from and while in Bellingham yesterday, I HAD to purchase one (or two) for Davey… I couldn't choose between the tan and the navy, so I got both. They also had Newborn size and I think 0-3 months… I have a feeling that I'll be returning to the store to get more of these in bigger sizes b/c they're SO DARN CUTE and I want Davey to wear one every day!!! (Oh yeah – the dollar bill is in the photo just to show you how SMALL these things are)!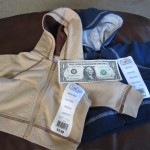 And then last night was our FIRST DATE. We've gone on a few short walks without Davey (when Nana was here to watch him), but last night was our first "official" date…. two days shy of Davey's one month birthday. It was a partial double date – we went to the demolition derby at the NW WA Fair (I've gone EVERY YEAR since I moved here in 1999 and I wanted to keep that tradition alive). We met up with Tim & Carrilee in the stands and pretty much only saw them at the derby.
So here's the derby area with Mount Baker in the background: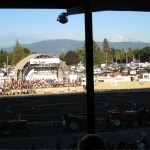 And the four of us (sorry it's an unflattering photo of all of us):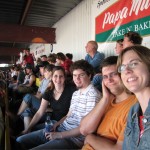 A new event this year: two people on a four-wheeler driving around a small track. The back person has a plastic baseball/wiffleball bat and they try to "beat" a balloon off the back of the other four-wheelers. Pretty hilarious. From what we hear, the afternoon event was better, though, b/c the balloons were actually tied to the helmets of the person on the back of the 4-wheeler… now THAT would have been a sight to see!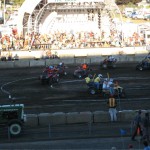 And here's the pick-up truck derby (I LOVE THIS PART) and the demolition derby (with cars).


I did take a video (on my camera) but I don't yet know how to upload to you tube…. will learn that eventually!
After the derby, I got my moowich (two giant chocolate chip cookies with vanilla ice cream in-between) and we headed back to grandpa & grandma's house to pick up our little boy (we were told we came back too quickly)!
And NOW I get to take a shower… i smell a bit like sour milk!