fri: 7/20
weight is the same: 5 pounds 1 ounce
biliribun level: increased
sad news: we should wait until davey is "full term" before we take him out and about and expose him to people and germs and the like. yep. so that means i'm mostly housebound for another month. frustrating for sure. but maybe it will help me to get a schedule going once he's out of this bilibed.
his biliribun level is still lower than a level that causes alarm, so while we're disappointed that the bilibed use must continue, at least he can stay at home. nurse jayne is working with us to make small changes here & there with the feeding schedule and process. we'll see her again on monday (she has the weekend off so we'll see two of her colleagues instead). i am so thankful for these home visits. some encouragement. some support. and definitely some wisdom for two parents who don't know what to do for their sweet little son!
we did have a rough night last night, but we have the okay to use the pacifier tonight to try to help calm him. yep. i may have a binky baby. and i'm okay with that!
here are some photos from the past few days (chosen by dave to share with you) that you might enjoy:
first bath in the hospital (davey wasn't a fan):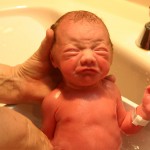 a hospital kiss from mama:

a very precious sleeping davey: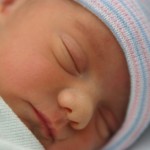 daddy & davey at home: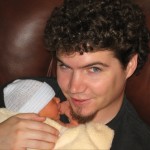 davey the alien – my heart melts when i look into these eyes: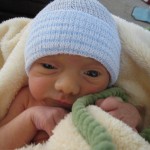 when davey peed on daddy (on thursday, july 19th):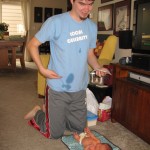 and on another note, please pray for my friends Kim & Will. they were in our childbirth class with us. kim and i work at the store together. her due date (with little konnor) is september 3rd. i found out today that her water broke (yesterday, i believe), which is 7 weeks early. she was taken on an ambulance down to seattle (b/c it's too early to deliver here in bellingham) and was given some medication to stop the labor process. once she got to seattle, they did a bunch of tests on her and konnor and they decided that konnor appears to be about 3-4 pounds and his lungs look okay so they're going to let her deliver. unfortunately, she was in active labor, was dilated to a 3 and then her contractions stopped. so now she's waiting. just waiting for her precious little konnor to arrive.
so please pray for kim and will and konnor.
oh yeah – did i mention that they were planning to move from their apartment to their house TOMORROW (saturday) and therefore they were waiting to buy ALL the big items until they got into their house. so they have nothing – no car seat, no crib, nothing.