Thursday: July 19th
First update (sorry it's being posted so late today)…. Davey gained ONE OUNCE since yesterday (bringing him up to 5 pounds and 1 ounce) so that means…. your prayers are WORKING. keep praying, b/c he has a lot more weight to gain, but at least we're ADDING weight now instead of losing it.
Second update: despite his MULTIPLE poops yesterday, his biliribbon (sp?) level increased again today, so we have to continue the phototherapy sessions for at least another day or two. the nurse will return at 10 a.m. tomorrow to weigh Davey, prick his little foot for a blood sample (poor little guy has two feet full of little prick marks) to test his biliribbon level again.
his face does have a bit more of a "yellow glow" today and the whites of his eyes are pretty yellow, also. HOWEVER, i still think he's the most beautiful baby boy ever born!
Here's a photo of Davey's current "quarters" aside from feeding and diaper changes: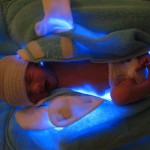 He gets placed on this bilibed which looks a lot like a flat-bed scanner. above the glass, however, is a thin but strong stretch of plastic something that is pretty cushioned, so his "bed" isn't hard, at least. after placing him inside (with rolled up towels or receiving blankets on either side of him), we cover him with a soft blanket and zip him into the bed. once he's "all tucked in" you can only see his eyes and his nose b/c even his cute little lips tend to get scrunched into the aqua-colored terry-clothing wrapping (which comes with the bilibed). as you can see, in the photo, he can only wear a diaper inside the bilibed. the light does NOT generate heat, so we have to takeh is temperature everytime we feed him to make sure he's staying warm enough. we can't even put little socks on him!
here's one of my favorite photos of my daves sound asleep: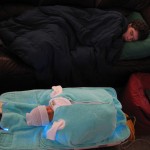 for the most part, he doesn't mind the bed… there's a certain "window of opportunity" when we can get him into the bed… he has to be falling asleep or have recently fallen asleep, otherwise, he wakes up and cries until we take him out to calm him down. what can i say? my little boy is a snuggler… and that makes me happy. i'll be even happier once i can SNUGGLE with him on a more regular basis!
i would like to point out that dave and i do get to hold davey quite a bit. even though he has to be in the bilibed as much as possible, i do hold him for feedings (which are quite the process) and dave tends to hold him while i'm pumping (b/c i have to feed him and then pump and then syringe-feed him the "supplemental" breast milk) and then one of us feeds him the "supplemental" milk. we also hold him for a few minutes AFTER feeding him until he's drifting off and THEN we put him into the bed. this whole process takes anywhere from 45 to 90 minutes.
dave picked out other cute photos for us to share, but i think this is enough for today. i need to finish eating my dinner and then get ready for davey's next feeding (every 3 hours or so). i'm working on my "birth story" post, so i promise – you will get to read that pretty soon. and we will keep you posted on his weight and his bili-levels… thank you for your prayers thus far and we appreciate your on-going thoughts and prayers as our little guy grows stronger and bigger!