so we've had some GORGEOUS weather here lately, and apparently it's around for awhile: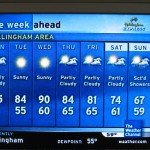 Yeah – do you see the forecast for Wednesday. Ahhhh….. makes me wish we had a swimming pool in our yard (even though I'll be at work all day)! It's weather like this that really makes me miss my mom's back yard. i LOVE that pool!!

I'm hoping tonight to get some more photos loaded for your viewing pleasure…. photos from our fun Gottathink Annual Summer Picnic on Saturday. We actually took a group photo this year (forgot to do that last year!) and had a great time eating, eating, eating, eating and talking.
Happy Monday!