Friday: July 13th
i've been keeping myself pretty busy lately, and this week has been no exception (trust me, though, i'm not "overdoing" it). most of you know that i LOVE my part-time *fun* job teaching card classes at Treasury of Memories (www.treasuryofmemories.typepad.com). in fact, i love it so much that when i'm teaching on a given tuesday, i spend as much time in there as possible. sometimes i work on my next card class samples. sometimes i work on samples to display in the store. and sometimes i just work on my own projects. but ultimately, i LOVE it when i'm asked to work on some projects. sometimes it's because i'm at the right place at the right time (gotta love that!) and sometimes it's because i ask "is there anything you need?" so this past tuesday, as i was wandering around the store doing little things here and there to help out, i wound up gaining FOUR projects…. all to be completed by TODAY. tee hee! see, tomorrow the store is celebrating their TENTH birthday (YIPPEE) so there's a huge birthday party, sale and all kinds of other fun activities happening…. including lots of new samples and projects and kits and you name it!
so i whipped together a few quick cards (they're really simple) that same day before my evening class started. and i picked up the supplies and goodies for the other three projects. and just about 40 minutes ago i finished up the mini album (the last of the projects). so what do you think of my newest creations?
mini album focusing on Heidi Grace patterned paper (a new manufacturer in our store):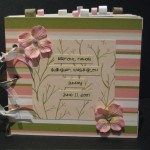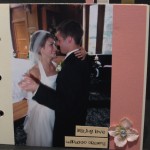 layout focusing on autumn leaves brand stamps (my favorite!). if you can't read the journaling, these photos were taken in february, so that's one of those "fake baby bellies" you can use when trying on clothing at certain stores that carry maternity clothing (this was at The GAP in downtown Seattle).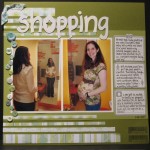 and last, but not least, a layout of tom's graduation. i had to change the photos to black & white b/c the store needed me to use the blue and yellow "gown" sticker and cap…. since lynden's colors are green and gold, i figured b&w photos would look better!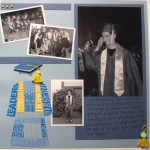 so thanks for taking a peek at my newest work. if you're in bellingham tomorrow and need ANYTHING craft related, every customer gets 40% off one item tomorrow. and i guess we're having a last-minute sidewalk sale, so there will be tons of items on sale for cheap, cheap, cheap!!! AND WE'RE HAVING BIRTHDAY CAKE!!! can't miss out on that!
******************************
and as a teaser for another blog post this weekend….. today i'm 36 weeks along. i saw the doctor yesterday. i'll have a new belly photo for you (hopefully tomorrow, but definitely by sunday). and i'm going to let you all GUESS how much i weigh now!