july 20th.
weight is back down 1 ounce (at 5 pounds even). more adjustments to feeding. keep praying this lil' dude packs on some pounds.
the hint of a smile (photo taken in the hospital):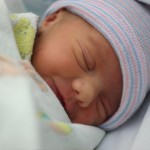 biliribun level: DOWN! yep. for the first time, his bili level has DROPPED – it's now at 13.9 which (i believe) was his level when we left the hospital. so one more night on the bilibed (tonight) and they'll check his level again tomorrow.
i got more sleep last night then i have since he was born. not a lot, still, but i feel pretty good today. gotta make sure i get a nap or two here and there, but i feel good. and i feel encouraged that his bili level dropped. one hurdle being cleared.
eating daddy's finger yesterday…. so tasty…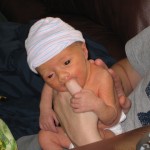 sound asleep with daddy this morning: