HAPPY INDEPENDENCE DAY!!!
Having grown up in a suburb of Philadelphia, this day always makes me think of the following things:
Red, white & blue
The Liberty Bell
The Declaration of Independence
Men wearing white powdered wigs
Independence Mall (it's not a shopping mall)
Thomas Jefferson
John Hancock (who could miss THAT signature on the Declaration of Independence)?
Fireworks
Sparklers
Picnics (deviled eggs, anyone?)
Swimming (not so much since I moved out west)
So I hope you all have a wonderful day with friends, family, strangers or whatever it is you're doing to celebrate this National Holiday.
I started my day (it's only 1:30 right now) by painting the nursery. It's finished (but for a few touch up spots) and the new color (lighter) looks great! Way better than sticking with the original color I chose: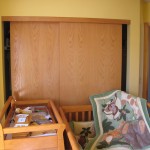 Since this photo was taken, I've also removed the closet doors and have organized baby seven's clothing purchases into sizes. I'm hoping to spend some time on Friday and/or Saturday putting up some of the shelves and "decorating" them with various goodies, toys and baby items we've received.
I also spent some time in my studio this morning painting some wooden words that I picked up about a year ago: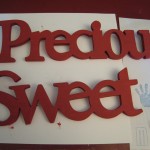 I guess it's pretty obvious that they're for Seven's room!

I want to try to add some accents of red here and there in the nursery since there's red in the bedding and I don't want EVERYTHING to be green and yellow! (Did you know my original plan for the nursery was denim bedding with red accents? Yep. But I couldn't find any denim bedding sets I liked and I stumbled on the Jungle Baby set that I now love! )
And while I didn't paint these items today, I did paint them this past weekend. It's a layout and three cards using alphabet masks – they're samples for the store: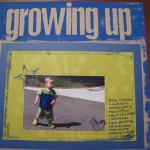 So I think I FINALLY have all the paint removed from my hands (and my hair) and it's time for me to go eat a (late) lunch and then get ready for an afternoon and evening celebrating this holiday with good friends!
HAPPY FOURTH OF JULY!!! (and Happy Birthday to Miss Carly from the store… LOVE that girl)!!