wed: july 25th
yesterday i had the opportunity to go shopping (without davey) for a few hours. tracy (family from colorado) joined me and there's no way i could have made it through my list at target without her… THANK YOU, TRACY! i had to buy a bunch of things to add to the nursery plus more diapers, some long-sleeved onesies and so much more. i had a shopping cart full of items and a nice big bill, but it was worth it to get some "mommy time" and to see tracy during their visit.
i know you didn't get to see any photos yesterday since i didn't add a blog post, so let me make up for that today.
here are two CUTE photos of little davey sleeping – first one is in daddy's arms and the second one is in mama's arms. check out the way he's been holding his arms/hands when he curls into someone's body to sleep: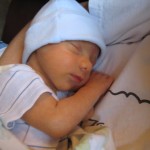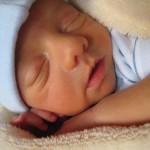 and here's davey on the "patient bed" at the doctor's office (photo from monday). we go back again in about an hour to be weighed again.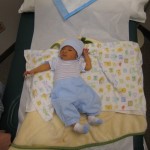 this is how i keep davey's hands warm at night…. with little baby socks!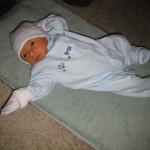 when roy, tracy and dori stopped by yesterday to see the house (and the nursery), they each got to hold little davey for awhile. roy had the magic touch… davey found his THUMB while roy was holding him: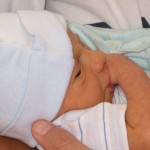 and then we headed over to grandpa & grandma's house for a big family dinner. granted, it was jeff's birthday, but this wasn't his birthday dinner (that's on sunday – when we'll celebrate jeff's birthday AND dave's birthday) – just a fun family evening with roy, tracy and the girls before they left town. so here's a FAMILY OF THREE photo: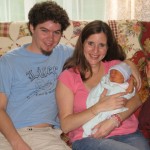 and a family of TWELVE photo: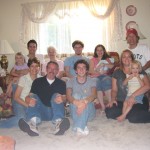 and finally, uncle jeffy holding his precious nephew…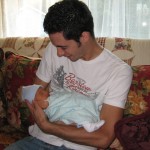 what better birthday gift could we give to jeff?!
edited to add: home from the doctor's office now. davey gained some more weight – he's up to 5 pounds 3.5 ounces. his bili levels are up again, too, but that was to be expected after coming off the light box. with the weight gain, we don't need to go back on the light box (YEA!)