davey's biliribun level is down so we no longer need to use the bilibed. YIPPEE!!
his weight, however, is also down (another 1/2 an ounce) so we've made more changes to his feeding plan and tomorrow we'll visit dr. dickson. hopefully it's something as "simple" as reflux (which is not uncommon in preemies) and we'll be able to get this "nipped in the bud" and get some weight back on him.
so here i am feeding him (breast milk) from a bottle: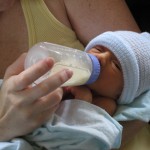 he's not having any problems with the bottle nipple, the pacifier or drinking more "naturally." i've got a very smart baby!
we have to feed him this way for about 24 hours so we can track how much food he's actually getting. keep davey and his weight in your prayers. as a remind for those of you who may be confused, davey is trying to GAIN weight… mama is trying to LOSE a belly (without dieting right now – gotta get good food into my baby)!!