Wednesday: July 11th: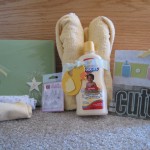 seriously? this wee little bundle who isn't even born yet receives more packages than mama and daddy! maybe mama and daddy need to get on-line and order a few things so WE can get some packages! tee hee!
but on monday, we received a fun box of goodies (see photo above) from our dear friends in Montana – Leif, Elizabeth and Eliana. They were hoping to make the journey out here a few weeks ago but it didn't work out as planned. so the goodies had to be mailed instead. inside the box, elizabeth was able to pack a ton of great goodies: a hooded towel, bath wash, two tiny onesies, a package of clear baby stamps (for me!)… and if all that wasn't enough, i have a custom made, "elizabeth original" pre-made baby album! everything in that box will get a TON of use – i'm sure of it!
so here for all the world to see, a giant THANK YOU to the WICKLAND FAMILY for their love and generosity to us and baby seven!
i should also mention that last week we received a hand-delivered package from uncle jon and aunt marcia who were here for a visit from ohio. baby seven is now the proud owner of a really cute little t-shirt from yellowstone national park (apparently, baby seven is the ONLY recipient of ANY souvenir from that adventure!) and a gift card to target that mama will surely put to good use for some gender-specific baby clothing after little seven is born!
so THANK YOU, too, Uncle Jon & Aunt Marcia, for the treats for baby seven!
what a spoiled little bundle of joy i have growing inside of me!