Sorry i didn't post a belly photo, as anticipated. we never actually took one. i did get up to 160 pounds, however (weight gain of 34 pounds) by week 36!
More to come, but as a great shock and surprise to us all, David Charles Dunkin (aka: Davey) made his grand entrance to the world on Sunday, July 15, 2007 at 4:11 a.m. He was 4 weeks early and is considered a preemie. He weighed 5 pounds 10 ounces and is 18.5 inches long. Here are some photos to tide you over until the story can be shared:
Davey with his proud Daddy, just minutes after being born: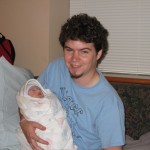 Bad camera angle, but you can see Davey's eyes: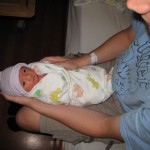 The Dunkins…. family of THREE: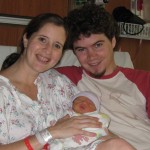 If you think of us, please pray for us. Davey is jaundiced and for the next few days he has to spend all his time (other than being changed and fed) in a bilibed (will explain more later) to help break down the bilireuben (sp?) that is causing his jaundice. so pray he eats more. poops more and that the jaundice goes away so we can hold our precious bundle to our hearts content! i'll share more about all of this later. i promise!
ALSO: the hospital website has a "baby album" where you can leave a message for Daddy, Mama or Davey and we can print it out and put the info into his baby book…. here's the link:
www.newbabynews.net/hospitals/stj5/public/stj5birthannouncement.pl