"fussbudget." one of my favorite nicknames for davey. i'm also partial to "peanut" these days, too. but last night, it was fussbudget ALL THE WAY. mama and daddy just couldn't make the kid happy or content for more than 15 minutes at a time – and this all started at 4 a.m. and lasted until 6:30 a.m. daddy had to go back to work today and he must be VERY TIRED. Hopefully last night is more of an exception in this household b/c mama can't handle too many nights like that!
thankfully, he ate again at 6:30 and then slept pretty soundly for FOUR hours…. we prefer that action at night, kiddo!
yesterday morning we made it to sunday school AND church. then we had a big family meal at grandpa & grandma's house to celebrate jeff and dave's birthdays (complete with peanut butter pie for dessert):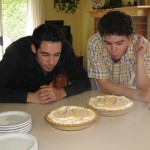 jeff turned 23 (so there are 3 candles on his pie) and dave turned 28 (so he has 8 candles).
and here's a cute photo of daddy talking to davey: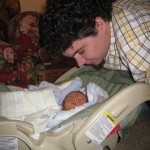 too bad davey wouldn't listen like that in the middle of the night (morning?)!
and today's big excitement is NANA IS COMING! we're not sure what time she'll arrive in bellingham – her flight from philly to vancouver (canada) has already been cancelled TWICE, so she got re-routed onto another airline and isn't sure which shuttle bus she can catch from the airport to bellingham. so we're "on call" to pick her up around 3:30 or 5:30.
And daddy wants us to visit him at work so he can show us off to his friends, colleagues and the starbucks baristas! guess that means mama should go get ready for the day!