Tuesday: July 3rd, 2007: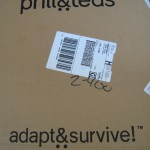 adapt & survive…. i think this is the overall "theme" of phil & teds, the company who makes the stroller i recently purchased for little seven. it's a company based in new zealand and they call the stroller a "buggy" (see the box if you don't believe me: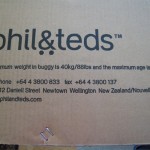 ).
adapt & survive…. i think that will have to become my new mantra for awhile, especially the first month when i'm terrified that i will feel like nothing more than a glorified milk machine! the "adapt" part is key for me. by the time little seven comes along, i'll have been working full-time for about a decade. yep. 10 years. so this "stay-at-home mom thing" will be a huge change for me. a good one. one i'm eagerly anticipating. but a change none-the-less. and with change, there's always a bit of wonder. and sometimes worry and doubt.
the survive part will also be crucial, at least for the first month or so as i learn, first hand, how to change a diaper, feed my baby, be RESPONSIBLE for the well-being of another human being, etc. i've NEVER been much of a baby person. i never did much baby-sitting as a teenager and when i did, the youngest child was probably about 3 or 4 years old. i have very LIMITED diaper-changing experience. i do finally have more experience HOLDING and CUDDLING a baby – thanks to all my friends who actually trusted me to hold and not drop their precious babies (preseton, nolan, emma, henry and markus to name a few). I did okay with the "holding" part.
"survival" will also be essential with the CRYING. and not just for my own sanity, but for dave's, too. especially at night. he's such a light sleeper (he's already been sleeping poorly b/c of my middle-of-the-night "roll over" and "potty break" needs) that i'm afraid he'll rarely sleep with a wee one crying every 2-3 hours. i do pray that this child will QUICKLY learn to sleep through the night, as dave and i can both be rather nightmare-ish people when functioning on limited sleep on an on-going basis!

but these are all the bad things. i think there are a LOT OF GOOD THINGS that will come into our home with this baby, too. coos and giggles and smiles and warmth and love and laughter. a precious bundle of baby to love and cherish. a baby to remind us of our Creator. how He formed this child. how He's bestowing upon us a great blessing with this baby. how much He loves us, b/c i know it's more than I could ever love my own child and i know that my heart will BURST with love for this baby.
so those are today's musings about this wee one who is growing and wiggling (like crazy) inside me.
pretty soon, i'll have my own precious bundle of a baby to place in this stroller: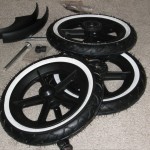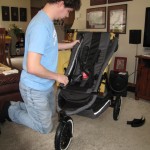 (the back is lying down b/c that's how you have to "adjust" it to place an infant carrier in/on the stroller):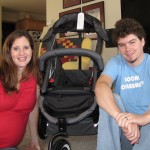 how cool, too, that this company knew to send US the "survival of the hippest" guide. i KNEW i was hip, but i didn't know that phil & ted in new zealand knew that, too…. i must be world famous! (tee hee)!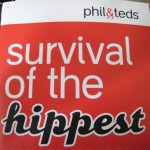 so thanks again to nannah (my mom) and uncle john (my brother) for making the purchase of this stroller possible! my baby will be RIDIN' in STYLE!!