On Sunday, June 17th at 11:00 a.m., Rachel (Dave's sister) married her best friend, Sterling Culbertson. They met when Rachel was about 11 (Sterling is a year or two younger). Sterling, apparently, has been in love with Rachel (off and on?) since he was 11. Rachel… not so much. She loved him like a brother, especially all through high school. She traveled the world (with her college chorale) and even lived and taught in Spain for a year, before moving back to the States. She got a teaching job at a small school outside of Seattle last fall. Sterling was in his last year of college at Seattle University. Because Rachel had no friends down in the Seattle area, they got together for coffee or lunch one day…. and something happened inside of Rachel.
Not too much later, we were told that they were dating. And then Christmas came and went and then they weren't dating. And then we got a phone call on March 4th telling us they were engaged (for those of you who remember, Dave and I were engaged on March 2, 2002, so I guess March is a good month for the Dunkins)!
The plan was to have the wedding outside… but it was rainy, dreary, miserable and cold – all the things a bride dreads. So the wedding was moved indoors at this gorgeous place called Lairmont Manor in Fairhaven (Bellingham, WA). Truthfully, I don't think Rachel OR Sterling noticed the rain. I didn't. The day was magnificent and one would think that the wedding was PLANNED to be indoors.
The ceremony was short. The guests were few. The bridal party was all family – siblings and siblings-in-law only (four on each side). And at this wedding, I cried more than I have cried at all other weddings combined. I cried during the ceremony when Rachel got so choked up she could hardly read her vows (they wrote their own) to Sterling. Then I cried when Dad read his poem during the reception (apparently, it is a Dunkin tradition to write and read a poem to your daughter on her wedding day). And I cried yet again when Rachel read to Sterling and all the guests (during the reception) some of her journal entries from 1999 & 2000 (when she was 18) because those entries talked about her wonderful friend Sterling and "if only" he were older and how much she "loved" him (but "not like that"). And when she said that God had her travel the world only to return to her home to find the one man she'd been waiting for….. well… yep… I lost it again. But none of my tears were tears of sadness.
And I would like to share how PROUD I was of my husband. Since there were no bridesmaids or groomsmen, Rachel had asked her brothers, Dave, Jeff and Tom, to do the toast that her maid/matron of honor would have done. Jeff gave Sterling some advice to never turn his back on Rachel (she got a good hand-print slap in on Jeff's back because he said something that didn't agree with her). Tom gave Sterling advice to beware of garage doors (Rachel squished Jeff in a garage door – repeatedly – one day – on accident. Dave's advice, as he acknowledged, was not particularly useful to Sterling (don't let her date your friends). But then he shared a time when he had to protect Rachel and some friends during their junior high years from some bullies. And Dave passed the torch of protection along to Sterling…. the big brother handing over the responsibility of his little sister to her new husband.
And now, without any further delay, here they are: some wedding photos. some are mine. some are dave's. most have not (yet) been edited or cropped but at least you can see how happy they were that day. and how beautiful everything was. (oh yeah – since i was in the ceremony, i have no photos of that. and i have no family photos…. so we'll see if this photographer is any good when the photos come back)!
Rachel waiting for the ceremony to begin (with her grandmas checking in on her) and the sibling bridal party: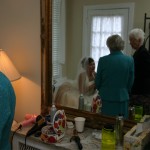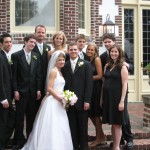 tom & jeff and then jeff & dave with grandpa & grandma dunkin: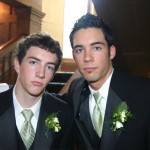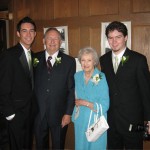 Sterling & Rachel Culbertson having brunch: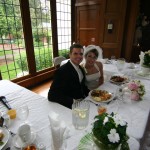 The Dunkin boys toasting their sister and Dad reading his poem: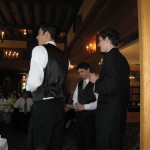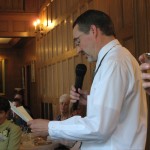 The beautiful cakes and the cutting/eating of the cake: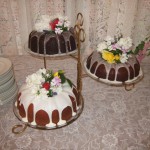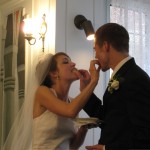 The bouquet catch (Rachel threw the bouquet before anyone was ready with a camera – Dave shot this photo from the hip…. literally. And there was no garter toss).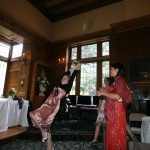 Some dancing: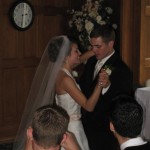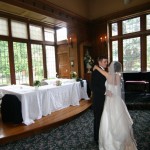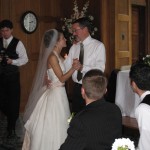 Ben (Sterling's brother) did a good job decorating Sters' car and the couple did not seem to mind it at all: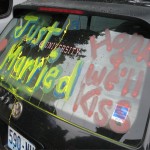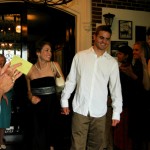 And last, but not least, a pretty good photo of Dave and I (with Baby Seven) before the day got going in full swing: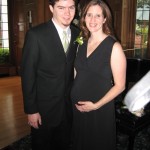 So thanks for bearing with me through the wedding re-cap and all the photos. But it was an important event in our home and in our family. But I'm also glad it's over…. hopefully I can begin the "resting" and "relaxing" process everyone tells me I should be doing these days!!