Hey friends! I've been meaning to post these for awhile…. just some goodies I've made for the store in the past few weeks/month.
The first is a Cosmo Cricket cigar box (the hole comes in the lid). I spent less than an hour (start to finish) on this project. Some paint, patterned paper, die cut letters, bling and a little bit of ribbon turned this box into a PERFECT SHOWER GAME or ACTIVITY. For new moms. Or new wives. All I did was use a paper punch with some ledger paper to make the cute scalloped circles to drop inside the box after people have provided their advice. I'm hoping to maybe use this project at my church baby shower in mid-September!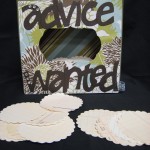 Next is a set of three little cards made with these super cute calendar stickers. Quick and easy, for sure. I also used the same patterned paper for all of them (only one sheet – with some left over scraps)!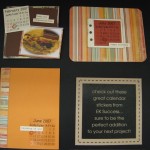 And last, but not least, Elizabeth had me make this UBER-CUTE paper mache box with Doodlebug's baby patterned papers. I used our store die cut machine for the sails and the boat. I cut them out of chipboard and then covered them with the patterned paper and cardstock. A little bit of ribbon between the sails and some polka-dotted buttons and the project was completed. Again, quick, cute and fun!