What a BEAUTIFUL Saturday we're having here. It's only 4:12 p.m. right now and it's sunny and warm (in the upper 70s) and we've spent much of the afternoon outside already.
I got a lot accomplished yesterday – in cleaning and running errands and "working" in my scraproom and then I learned that our bread machine motor did NOT die 18 months ago so we had a YUMMY BBQ chicken pizza for dinner last night with our friends Tim, Carrilee and Henry. We also watched a movie (Shooter with Mark Wahlberg – a pretty good movie, minus the political comments) and had fresh Maberry strawberries (so sweet and yummy) on top of fresh scones from Lynden's Cup of Tea. All in all, a relaxing and wonderful Friday.
And when we got home, it had arrived…. my stroller. Or Seven's stroller. Yep. The box was there on our porch but it was almost midnight so we headed to bed with plans to assemble it today. We relaxed and watched TV in the morning, had lunch and then Dave put the stroller together without the directions (it was a personal challenge). And it's so cool! I must admit, I did get *freaked out* at one point when the stroller was fully assembled. In 4-8 short weeks I will have my own wee one to put in there. SCARY!!! But I love the stroller (we haven't pulled out the "extra seat" yet to see how that straps on) but here's a photo of us with the finished product: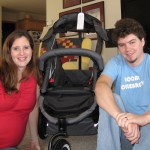 It's pretty slick. Dave likes the design of the pins that hold on the wheels. I obviously love the design of the whole thing… and the more "research" I did on strollers, the more I was convinced that this was the right one for me. For us. But I'll have to point out the finer details of this stroller in another post.
Dave didn't want to be *stuck* inside today, so we headed to nearby Bender Fields and threw the aerobie for awhile. I couldn't do much running or jumping, but we managed to toss the flying ring for awhile before we got too hot. Then we headed over to Justin and Brandi's so we could all go for a walk and get some ice cream. Should I repeat myself from a few weeks ago when I said how fun it is to have good friends living so close to us?
And now we're home and getting ready to settle into "work mode." Dave's in the office on the computer. I'll fold some laundry and head to my craft room/studio (I'm thinking I like the term "studio" better now – esp. since the room houses all of Dave's camera equipment) to finish up a project and start on the project for the store that I have to have completed by Tuesday!
I LOVE relaxing Saturdays like this. We don't get them too often and pretty soon, we won't have any (sorry, but there's nothing relaxing about feeding a wee one every 2-3 hours even if you DON'T have any plans to leave the house for the day). So for now, we're trying to capitalize on the few we have remaining.