here are some random tidbits:
i love dave.
i ordered the phil & ted's stroller that i really wanted (aka: really pricey) thanks to some generous "donations" from my brother and mom. can't wait to get it! (should be here on Friday!)
still haven't finished painting the FIRST coat on the nursery walls. gotta get to that soon.
started registering for baby stuff at target and babies 'r us (both registeries are available in store and on-line). i'll add more items (gender specific) after the baby is born.
my church shower will be around the 2nd or 3rd week in september.
only 6 weeks to go until my due "date." i'm terrified. absolutely terrified of the birth process. but i'm so eager to hold that precious little bundle.
i plan to work as long as i can, though i may drop my hours and work from home in the later part of july.
i still don't sleep so well most nights. lots of waking up…. God is really preparing me, eh?
spider bites HURT.
i definitely waddle more.
i'm outgrowing maternity clothing (gasp!)!
shhhh…. i'm getting to the point where i'm no longer so "sure" that i LOVE being pregnant!
i love sitting on those giant exercise balls (dave even bought one for me on sunday AND inflated it the same day)!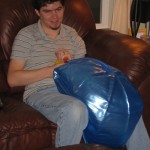 store die cutting systems rock…. saves me lots of money!
friends are very important.
people who offer to babysit for free are AWESOME FRIENDS to have!!
baby seven is growing a lot because my stomach can't hold much food these days
(it's getting squished in there with all my other internal organs)!
i love making displays for Treasury (www.treasuryofmemories.typepad.com). And Iove being in the store when Carly opens boxes of NEW GOODIES!!!!
i love the smell of freshly mowed grass. can't wait 'til the spring when this wee one will be big enough so we can go outside and sit in the grass for picnics and play time!
sigh. i found out last week that my braces are NOT likely to come off BEFORE baby seven is born. sigh. this is NOT what the orthodontist and i agreed on!

he initially said 18-24 months . July 26th of this year will mark 24 months that these things have been on my teeth. i'm so ready to be done with them…. i really want to whiten my teeth – they look so yellow! (gross, i know)!