friday: june 1st.
we have gotten out of the habit of spending time with our friends. not sure when or why or how it happened, but it's rare for us to actually gather with another couple for dinner and/or dessert and just talk. walk. hang out. relate. but we made it a point to do that last night with our friends justin, brandi and their little girl (age 18 months) emma. brandi is pregnant with baby #2 (a boy this time!) and is due just 5 short weeks after me. did i mention that dave and justin are EXACTLY one month apart in age? and that their dads were college roommates and are now pastors at the same church? yeah. small world. i hope we have a boy. and that one month later justin & brandi have a boy. i just think that'd be too cool.
but back on track. we had the baileys


over for dinner and it was so nice outside that we were able to eat on our deck with our deck furniture and dishes. we had a few small "oops-es" – like when i NARROWLY missed spilling steak "juice" all over my white skirt….. or when justin spilled (accidentally?) his beer on brandi…. or when emma pooped TWICE inside of 30 minutes…. but we still had a great time. and the best part – we all WALKED over to THEIR place (they moved to another rental place while we were in cabo) for dessert! i got to enjoy bathtime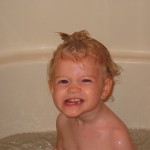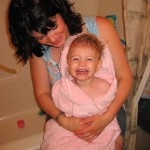 with emma & brandi while the boys chatted. and then it was TIME FOR DESSERT. brandi's desserts are never short on calories or fat grams, but they are ALWAYS SO DELICIOUS and SO WORTH IT! check out this peanut butter pie that had a chocolate cookie crust and some good "hot" fudge in it (though it was cold when we ate it)!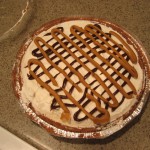 and after dessert dave decided he wanted to play with emma for a bit. he tried head butting her for awhile. she wasn't quite sure what to make of it…. i think she was getting a bit sleepy!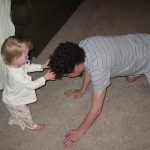 i love this photo. i am SO EAGER to watch him play with our little Seven (once he – or she – grows up a bit)!
so all-in-all, thursday night was fun and relaxing and i'm SO GLAD we MADE time for our dear friends. thanks, justin, brandi and emma, for a wonderful evening! it was the perfect end to the month!
EDITED TO ADD: When asked by her mom if we're having a girl or boy, Emma actually answered – "girl." and despite the fact that i've been pretty adamant that this is a little boy growing inside of me, i actually said "girl" or "daughter" TWICE last night. it was WEIRD. so now i'm not so sure it's a boy anymore. AURGH!!!!! only 10 more weeks (more or less) until we find out!