Natural or not? That's the question of the weekend. Dave and I spent all day Saturday (8:30 to 5:30 ) and half of Sunday (12:30 to 5:30) in a childbirth class in Bellingham. Yes…. Bellingham. We love the area where we live, but Bellingham does tend to be a bit more "hippie" than we might prefer. While we did receive a MINOR amount of information about epidurals, pain medications and being induced, she really focused most of the class hours on meditation, relaxation, labor techniques, discussion of massage, etc. That information, I would like to add, was VERY helpful and some of the massage techniques will actually help me with the back problems I have (from before pregnancy). But I feel that she really glossed over the reality that some women WANT that pain relief and that doesn't make them a bad mom. Some women can't or really don't want to breast feed – and again, that doesn't make them a bad mom. So I'm just hoping that everyone who was in that class with us this weekend is aware of that.
But back to my question – natural or not? I must admit that I was absolutely TERRIFIED of the grunting and groaning (those low "gutteral" sounds) that the women in the videos were making during their active labor phase. Yep. Terrified. I even had a NIGHTMARE on Saturday night after seeing the videos. Funny…. watching the baby actually come OUT was not terrifying… it was the hours of walking and hot baths and squatting and kneeling and moaning and groaning BEFORE the baby came out that terrified me. So natural or not?
I'm very thankful that the weather was pretty crummy all weekend – made it a bit easier to be "stuck" inside at this class. It did get pretty nice on Saturday evening, though, so after our class, we ran a few quick errands and then went for a walk at Boulevard Park (where we got engaged) to try to work up an appetite for dinner at The Keg (a super yummy steak & seafood restaurant that we only visit about 4 times a year – our birthdays, our anniversary and Gottathink's Christmas dinner). In the last few years, the city has "extended" Boulevard Park by a long bridge so it's a really nice walk out "on" the water. It was nice to be outside in the fresh air and to be up and moving around and to talk.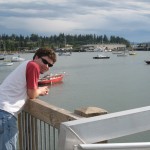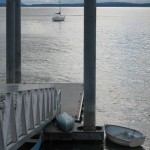 It wasn't easy to return to class that second day (two couples of the original eleven) didn't return! But I wanted to give it another try (and Sunday is the day we learned about epidurals, episiotomies, pain meds, induction, etc.). I need to add that I didn't feel well, either. I woke up a LOT during the night (at least 5 or 6 times) so I didn't sleep well and I felt sick – like I had a full pocket of acid in my stomach. We had actually only been in class for about 20 minutes when we were watching a video and I felt like I was going to fall over and pass out…. yep…. felt like I was just going to slide right out of my chair. So I laid down on the floor with my pillows and really tried not to fall asleep. The "faint" feeling didn't pass for about an hour, despite lying down, relaxing, drinking water, etc. Dave was a bit scared that I would pull a "stunt" like I did on our flight to Rhode Island two years ago (but let's not get into that now). I fought hard, however, and was able to stay conscious the whole day. Not sure what it was, but it was NOT a good feeling there for quite awhile.
There were some fun moments throughout the class – especially when we got to "play" with the baby dolls. I know it's an unflattering photo, Kim, but you and Will are so darn cute with that little Asian baby! And here's Dave and I with the little black baby… SO CUTE! We even got to practice swaddling them, though that was a wee bit difficult with the way their arms kind of stick out! (I think Dave and Will are going to be master swaddlers in just a few short days of the birth of our babies)!
Were the two days worth it? No. Not for me. But I DID get some good (and REALISTIC) information from the classes. Would I have preferred to have had that all on one day so I could skip the other day? You bet. But I do feel as though I learned a few tidbits of information (or was reminded of certain things that I had chosen to forget), so I'm glad we attended. Will we do it again as a refresher course with our next child? Heck no!
But that's okay. I don't feel that it was a total waste of money. And who knows, maybe all those handouts that I have received but haven't read will actually provide some useful information.
But the question remains: natural or not? Only 6.5 weeks until we find out!!