here it is… the much anticipated spiderman/spider-henry layout i made for the store a few weeks ago: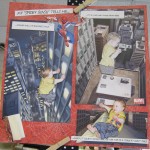 i played with the photos (from his birthday party) in photoshop a little bit. i was initially trying for a "pen & ink" look but couldn't find an "easy click button" to do that so this is a colored pencil with poster edges blur look. i printed teh photos at home. trimmed around them and then put them onto the various scenes (scrapbook paper). i "pop dotted" henry to add a little more dimension to the layout. i think it turned out pretty darn cute… and i love that henry is actually WEARING spiderman attire in these photos!
you can't see it, but in the lower left corner is a cool little sticker/book so henry can one day draw his own comic scene of himself. and under his hand in the lower right photo is a sticker of a spiderweb.
i'm not sure the layout is actually helping to sell product, but from what i hear the layout gets lots of compliments. carrilee, i had planned on giving this one to you when i get it back but now i'm not so sure!!