woo hoo! our friends from montana are taking a road trip. leif (one of dave's college buddies) has some training at microsoft at the end of the month. he wants to drive instead of fly and his wife elizabeth and 11-month old daughter eliana plan to tag along. we usually get to see leif and elizabeth about once a year. we haven't met little ellie yet, though i feel like i know her already from elizabeth's blog posts (www.wicklandfamily.blogspot.com)!
here's a photo of leif, tim and dave (from left to right) on our camping trip to the olympic peninsula back in august of 2005: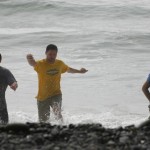 and a photo of elizabeth and i from that same adventure (we were searching for rocks to and then CHALLENGED each other to make a scrapbook page with them… thus started our love affair with www.twopeasinabucket.com):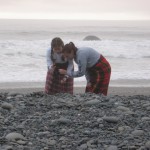 i'm not sure if their visit is set in stone or not yet, but i'm counting on them to make this journey. i was afraid we wouldn't get to see them this year based on baby seven's due date, but it looks like we may get to see them and meet little miss ellie (before she turns one) after all!
HOPE YOU CAN REALLY MAKE THE JOURNEY OUT HERE, L&E&E! I MISS YOU!!!!!